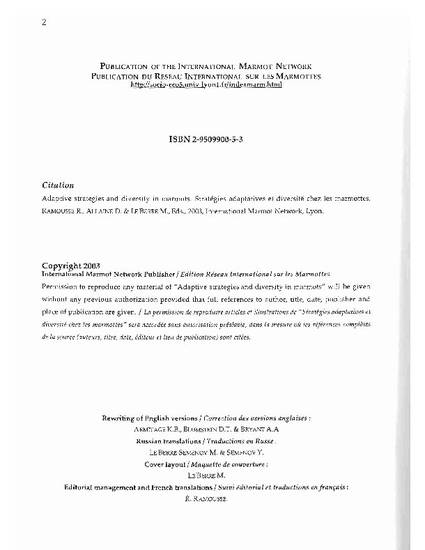 Contribution to Book
Varriation of growth rates in yellow-bellied marmots
Adaptive Strategies and Diversity in Marmots
Publication Date
1-1-2003
Additional Publication URL
http://www.worldcat.org/oclc/71807011
Abstract
Growth rates of yellow-bellied marmot (Marmota flaviventris) populations over a 32-year period (1965 -1996) varied Significantly with sex, age, location, and year. Overall, males had higher growth rates than females and young and yearlings generally had higher growth rates compared to adults at all locations. The locations varied with respect to elevation and the relationship between elevation and growth rate was complex and likely weather dependent. Low rainfall in late summer was often associated with low growth rates at high elevations where the active season is constrained and delayed by late spring snowmelt compared to low elevations. Growth rates and survivorship of young were more strongly influenced by deviations in rainfall than those of adults. Further, the effects of weaning date and mass on pre-hibernation mass were more pronounced for male young at higher elevations than for female young.
Rights
This article was archived with permission from International Marmot Network, all rights reserved. Document also available from: Adaptive strategies and diversity in marmots. Strategies adaptatives et diversite chez les marmottes. RAMOUSSE R, ALLAINE D. & I.E BERRE M., Eds., 2003, International Marmot Network, Lyon..
Citation Information
Carmen M. Salsbury and K. B. Armitage. "Varriation of growth rates in yellow-bellied marmots"
Adaptive Strategies and Diversity in Marmots
(2003) p. 195 - 204
Available at: http://works.bepress.com/carmen_salsbury/5/