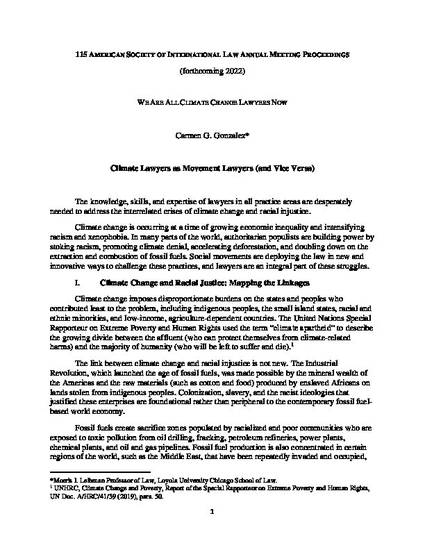 Article
Climate Lawyers as Movement Lawyers
American Society of International Law Annual Meeting Proceedings (2022)
Abstract
In April 2020, the American Society of International Law (ASIL) launched an initiative to foster conversations within and beyond ASIL on the connections between climate change and virtually all other areas of international law. This essay for the ASIL Proceedings is based on a presentation delivered at the April 2021 ASIL Annual Meeting.
The essay examines the link between climate change and racial subordination from the dawn of the fossil fuel-based world economy to the present and the complicity of international law in these converging injustices.  It discusses the counterhegemonic uses of international law by environmental justice movements in the Global South and the Global North and argues that lawyers have a huge role to play in solidarity with these movements and in opposition to the reckless extraction of the planet's resources.
As the climate crisis intensifies, many movement lawyers representing marginalized communities have unwittingly become climate lawyers, and many climate lawyers seeking to forestall climate catastrophe have already or will soon become movement lawyers.
Keywords
climate change,
climate justice,
climate apartheid,
racism,
racialization,
movement lawyering,
international law,
movement law,
international environmental law
Citation Information
Carmen G. Gonzalez, Climate Lawyers as Movement Lawyers (and Vice Versa), 115 American Society of International Law Annual Meeting Proceedings (forthcoming 2022)