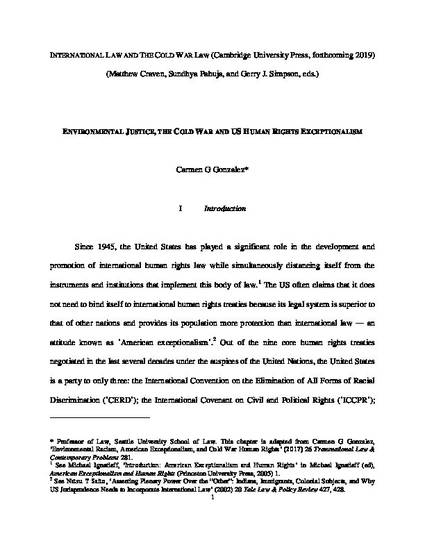 Contribution to Book
Environmental Justice, the Cold War, and US Human Rights Exceptionalism
International Law and the Cold War (2019)
Abstract
This chapter examines the Cold War origins of the United States' resistance to international human rights law and its implications for grassroots efforts to secure environmental justice through human rights law and institutions.  The Cold War played a central role in the evolution of the United States' relationship to international human rights law. Competing with the Soviet Union for the allegiance of the newly-independent states of Africa and Asia while maintaining racial segregation at home, the United States distanced itself from the evolving norms of international law that made state-sponsored racial discrimination illegal.  The US blocked efforts by civil rights organizations to present human rights petitions to the United Nations, and branded as traitors and Kremlin apologists the civil rights activists who threatened the country's prestige in the eyes of the Third World. As human rights law became an increasingly important arena of struggle between the United States and the Soviet Union, the United States embarked on a policy of ratifying human rights treaties sparingly and including reservations, understandings, and declarations restricting domestic enforcement of these treaties. Using Mossville Environmental Action Now v. United States (currently pending before the Inter-American Commission of Human Rights) as a case study, the chapter evaluates the promise and the peril of using international human rights law to challenge environmental injustice.
Keywords
environmental justice,
environmental racism,
race discrimination,
Equal Protection,
Supremacy Clause,
civil rights,
human rights,
international law,
American exceptionalism,
Inter-American Commission on Human Rights,
right to privacy and family life,
right to a healthy environment,
Cold War
Editor
Matthew Craven, Sundhya Pahuja, and Gerry J. Simpson
Publisher
Cambridge University Press
Citation Information
Carmen G Gonzalez. "Environmental Justice, the Cold War, and US Human Rights Exceptionalism"
International Law and the Cold War
(2019)
Available at: http://works.bepress.com/carmen_gonzalez/52/