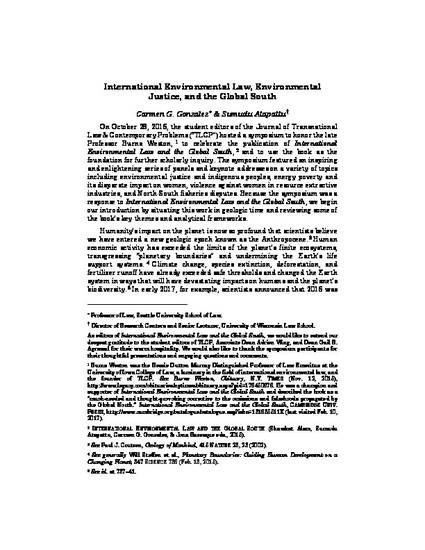 Article
International Environmental Law, Environmental Justice, and the Global South
Transnational Law & Contemporary Problems (2017)
Abstract
On October 28, 2016, the Journal of Transnational Law & Contemporary Problems ("TLCP") hosted a symposium to honor the late Professor Burns Weston, to celebrate the publication of International Environmental Law and the Global South (Cambridge University Press, 2015), and to use the book as the foundation for further scholarly inquiry. The symposium featured an inspiring and enlightening series of panels and keynote addresses on a variety of topics including environmental justice and indigenous peoples, energy poverty and its disparate impact on women, violence against women in resource extractive industries, and North-South fisheries disputes.
The thesis of International Environmental Law and the Global South is that an ecologically sustainable planet is impossible in a world plagued with significant and growing inequalities. If international environmental law is to succeed, it must overcome the North-South divide by developing policies and frameworks that address the concerns and priorities of the peoples and states of the Global South (including the "South in the North" -- environmental justice communities in the United States, Canada, and other affluent countries).
This introduction provides a synopsis of the frameworks and case studies used by the symposium contributors to analyze the North-South divide in international environmental law, including environmental justice, human rights, feminist legal theory, Third World Approaches to International Law (TWAIL), and decolonization. The symposium articles highlight the intersections of gender, poverty, rurality, indigeneity, and race, and explore how structural inequalities interact, overlap, and produce differentiated experiences of advantage and disadvantage.
Keywords
international environmental law,
environmental justice,
feminist legal theory,
human rights,
Third World Approaches to International Law,
decolonization,
North-South divide
Publication Date
Summer 2017
Citation Information
Carmen G Gonzalez and Sumudu Atapattu. "International Environmental Law, Environmental Justice, and the Global South"
Transnational Law & Contemporary Problems
Vol. 26 (2017) p. 229 - 242
Available at: http://works.bepress.com/carmen_gonzalez/47/