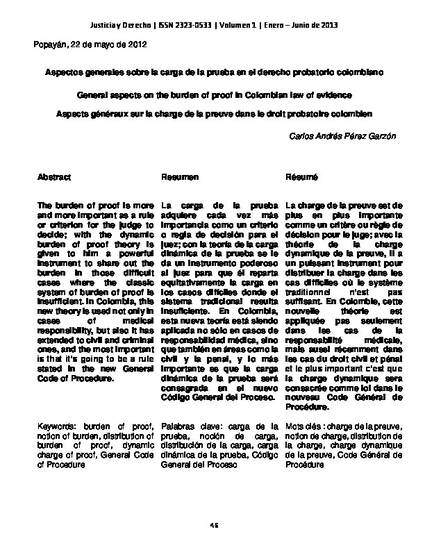 Article
Aspectos generales sobre la carga de la prueba en el derecho probatorio colombiano
Revista Justicia y Derecho (2013)
Abstract
Spanish Abstract: La carga de la prueba adquiere cada vez más importancia como un criterio o regla de decisión para el juez; con la teoría de la carga dinámica de la prueba se le da un instrumento poderosísimo al juez para que él reparta equitativamente la carga en los casos difíciles donde el sistema tradicional resulta insuficiente. En Colombia, esta nueva teoría está siendo aplicada no solo en casos de responsabilidad médica, sino que también en áreas como la civil y la penal y lo más importante es que la carga dinámica de la prueba será consagrada en el nuevo Código General del Proceso.
English Abstract: The burden of proof is more and more important as a rule or criterion for the judge to decide; with the dynamic burden of proof theory is given to him a powerful instrument to share out the burden in those difficult cases where the classic system of burden of proof is insufficient. In Colombia, this new theory is used not only in cases of medical responsibility, but also it has extended to civil and criminal ones and the most important is that it's going to be a rule stated in the new General Code of Procedure.
Keywords
carga de la prueba,
noción de carga,
distribución de la carga,
carga dinámica de la prueba,
Código General del Proceso,
burden of proof,
notion of burden,
distribution of burden of proof,
dynamic charge of proof,
Colombian General Code of Procedure.
Publication Date
Winter February 1, 2013
Citation Information
"Aspectos generales sobre la carga de la prueba en el derecho probatorio colombiano"
Revista Justicia y Derecho
Vol. 1 Iss. 1 (2013) p. 46 - 66
Available at: http://works.bepress.com/carlospg94/6/