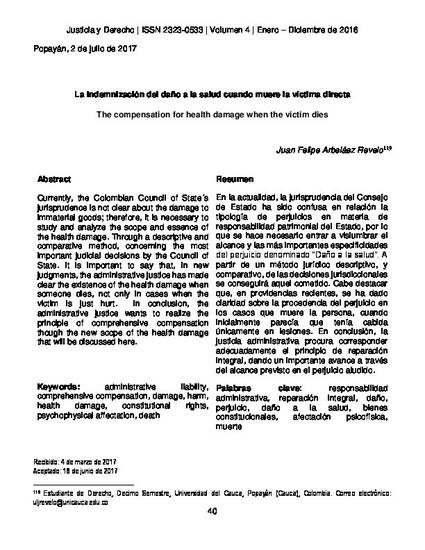 Article
La indemnización del daño a la salud cuando muere la víctima directa
Revista Justicia y Derecho (2016)
Abstract
Spanish Abstract: En la actualidad, la jurisprudencia del Consejo de Estado ha sido confusa en relación la tipología de perjuicios en materia de responsabilidad patrimonial del Estado, por lo que se hace necesario entrar a vislumbrar el alcance y las más importantes especificidades del perjuicio denominado "Daño a la salud". A partir de un método jurídico descriptivo, y comparativo, de las decisiones jurisdiccionales se conseguirá aquel cometido. Cabe destacar que, en providencias recientes, se ha dado claridad sobre la procedencia del perjuicio en los casos que muere la persona, cuando inicialmente parecía que tenía cabida únicamente en lesiones. En conclusión, la justicia administrativa procura corresponder adecuadamente el principio de reparación integral, dando un importante avance a través del alcance previsto en el perjuicio aludido.
English Abstract: Currently, the Colombian Council of State´s jurisprudence is not clear about the damage to immaterial goods; therefore, it is necessary to study and analyze the scope and essence of the health damage. Through a descriptive and comparative method, concerning the most important judicial decisions by the Council of State. It is important to say that, in new judgments, the administrative justice has made clear the existence of the health damage when someone dies, not only in cases when the victim is just hurt. In conclusion, the administrative justice wants to realize the principle of comprehensive compensation though the new scope of the health damage that will be discussed here.
Keywords
responsabilidad administrativa,
reparación integral,
daño,
perjuicio,
daño a la salud,
bienes constitucionales,
afectación psicofísica,
muerte,
administrative liability,
comprehensive compensation,
damage,
harm,
health damage,
constitutional rights,
psychophysical affectation,
death
Publication Date
Winter December 31, 2016
Citation Information
Arbeláez, J. (2016). La indemnización del daño a la salud cuando muere la víctima directa. Revista Justicia y Derecho, 4, 40-63.
Creative Commons license
This work is licensed under a Creative Commons CC_BY-NC-ND International License.