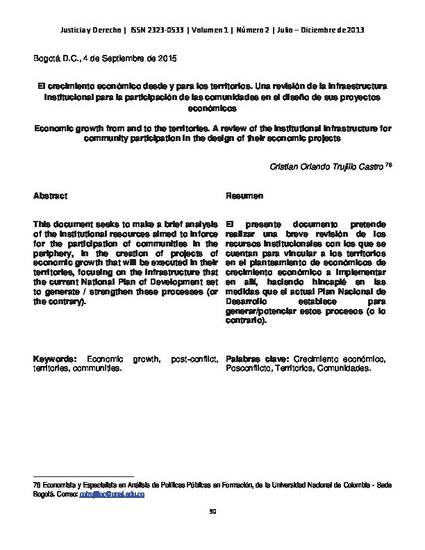 Article
El crecimiento económico desde y para los territorios. Una revisión de la infraestructura institucional para la participación de las comunidades en el diseño de sus proyectos económicos
Revista Justicia y Derecho (2013)
Abstract
Spanish Abstract:
 El presente documento pretende realizar una breve revisión de los recursos institucionales con los que se cuentan para vincular a los territorios en el planteamiento de económicos de crecimiento económico a implementar en allí, haciendo hincapié en las medidas que el actual Plan Nacional de Desarrollo establece para generar/potenciar estos procesos (o lo contrario).
English Abstract:
 This document seeks to make a brief analysis of the institutional resources aimed to enforce for the participation of communities in the periphery, in the creation of projects of economic growth that will be executed in their territories, focusing on the infrastructure that the current National Plan of Development set to generate/strengthen these processes (or the contrary).
Keywords
crecimiento económico,
posconflicto,
territorios,
comunidades,
economic growth,
post-conflict,
territories,
communities
Publication Date
Winter December 31, 2013
Citation Information
Trujillo, C. O. (2013). El crecimiento económico desde y para los territorios. Una revisión de la infraestructura institucional para la participación de las comunidades en el diseño de sus proyectos económicos. Revista Justicia y Derecho, 1(2), 90-105.
Creative Commons license
This work is licensed under a Creative Commons CC_BY-NC-ND International License.