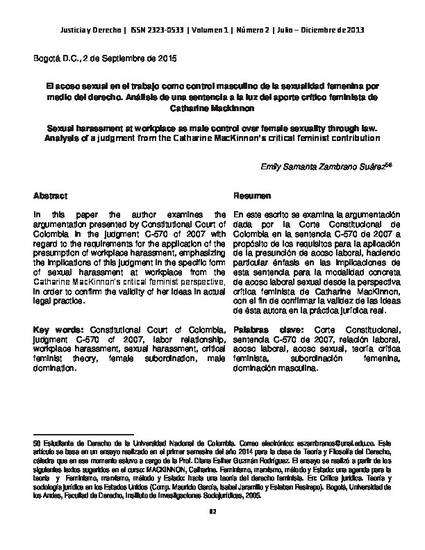 Article
El acoso sexual en el trabajo como control masculino de la sexualidad femenina por medio del derecho. Análisis de una sentencia a la luz del aporte crítico feminista de Catharine MacKinnon
Revista Justicia y Derecho (2013)
Abstract
Spanish Abstract:
 En este escrito se examina la argumentación dada por la Corte Constitucional de Colombia en la sentencia C-570 de 2007 a propósito de los requisitos para la aplicación de la presunción de acoso laboral, haciendo particular énfasis en las implicaciones de esta sentencia para la modalidad concreta de acoso laboral sexual desde la perspectiva crítica feminista de Catharine MacKinnon, con el fin de confirmar la validez de las ideas de ésta autora en la práctica jurídica real.
English Abstract:
 In this paper the author examines the argumentation presented by Constitutional Court of Colombia in the judgment C-570 of 2007 with regard to the requirements for the application of the presumption of workplace harassment, emphasizing the implications of this judgment in the specific form of sexual harassment at workplace from the Catharine MacKinnon's critical feminist perspective, in order to confirm the validity of her ideas in actual legal practice.
Keywords
Corte Constitucional,
sentencia C-570 de 2007,
relación laboral,
acoso laboral,
acoso sexual,
teoría crítica feminista,
subordinación femenina,
dominación masculina,
Constitutional Court of Colombia,
judgment C-570 of 2007,
labor relationship,
workplace harassment,
sexual harassment
Publication Date
Winter December 31, 2013
Citation Information
Zambrano, E. S. (2013). El acoso sexual en el trabajo como control masculino de la sexualidad femenina por medio del derecho. Análisis de una sentencia a la luz del aporte crítico feminista de Catharine MacKinnon. Revista Justicia y Derecho, 1(2), 82-89.
Creative Commons license
This work is licensed under a Creative Commons CC_BY-NC-ND International License.