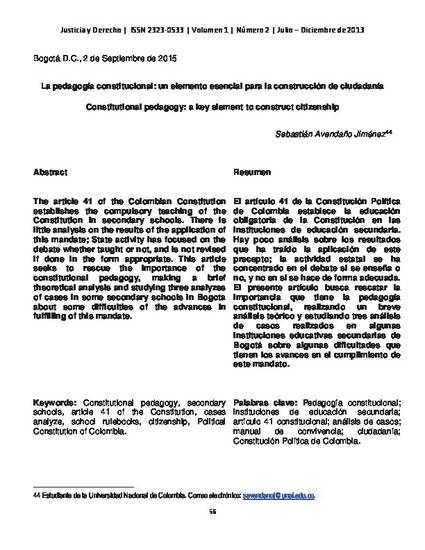 Article
La pedagogía constitucional: un elemento esencial para la construcción de ciudadanía
Revista Justicia y Derecho (2013)
Abstract
Spanish Abstract:
 El artículo 41 de la Constitución Política de Colombia establece la educación obligatoria de la Constitución en las instituciones de educación secundaria. Hay poco análisis sobre los resultados que ha traído la aplicación de este precepto; la actividad estatal se ha concentrado en el debate si se enseña o no, y no en si se hace de forma adecuada. El presente artículo busca rescatar la importancia que tiene la pedagogía constitucional, realizando un breve análisis teórico y estudiando tres análisis de casos realizados en algunas instituciones educativas secundarias de Bogotá sobre algunas dificultades que tienen los avances en el cumplimiento de este mandato.
English Abstract:
 The article 41 of the Colombian Constitution establishes the compulsory teaching of the Constitution in secondary schools. There is little analysis on the results of the application of this mandate; State activity has focused on the debate whether taught or not, and is not revised if done in the form appropriate. This article seeks to rescue the importance of the constitutional pedagogy, making a brief theoretical analysis and studying three analyzes of cases in some secondary schools in Bogota about some difficulties of the advances in fulfilling of this mandate.
Keywords
Pedagogía constitucional; instituciones de educación secundaria; artículo 41 constitucional; análisis de casos; manual de convivencia; ciudadanía; Constitución Política de Colombia,
Constitutional pedagogy,
secondary schools,
article 41 of the Constitution,
cases analyze,
school rulebooks
Publication Date
Winter December 31, 2013
Citation Information
Avendaño, S. (2013). La pedagogía constitucional: un elemento esencial para la construcción de ciudadanía. Revista Justicia y Derecho, 1(2), 56-63.
Creative Commons license
This work is licensed under a Creative Commons CC_BY-NC-ND International License.