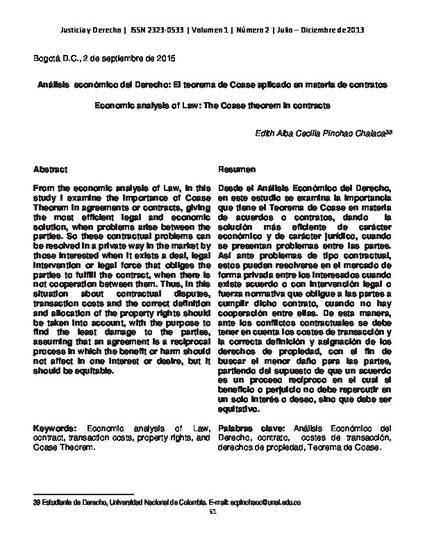 Article
Análisis económico del Derecho: El teorema de Coase aplicado en materia de contratos
Revista Justicia y Derecho (2013)
Abstract
Spanish Abstract:
 Desde el Análisis Económico del Derecho, en este estudio se examina la importancia que tiene el Teorema de Coase en materia de acuerdos o contratos, dando la solución más eficiente de carácter económico y de carácter jurídico, cuando se presentan problemas entre las partes. Así ante problemas de tipo contractual, estos pueden resolverse en el mercado de forma privada entre los interesados cuando existe acuerdo o con intervención legal o fuerza normativa que obligue a las partes a cumplir dicho contrato, cuando no hay cooperación entre ellas. De esta manera, ante los conflictos contractuales se debe tener en cuenta los costes de transacción y la correcta definición y asignación de los derechos de propiedad, con el fin de buscar el menor daño para las partes, partiendo del supuesto de que un acuerdo es un proceso recíproco en el cual el beneficio o perjuicio no debe repercutir en un solo interés o deseo, sino que debe ser equitativo.
English Abstract:
 From the economic analysis of Law, in this study I examine the importance of Coase Theorem in agreements or contracts, giving the most efficient legal and economic solution, when problems arise between the parties. So these contractual problems can be resolved in a private way in the market by those interested when it exists a deal, legal intervention or legal force that obliges the parties to fulfill the contract, when there is not cooperation between them. Thus, in this situation about contractual disputes, transaction costs and the correct definition and allocation of the property rights should be taken into account, with the purpose to find the least damage to the parties, assuming that an agreement is a reciprocal process in which the benefit or harm should not affect in one interest or desire, but it should be equitable.
Keywords
Análisis Económico del Derecho,
contrato,
costes de transacción,
derechos de propiedad,
Teorema de Coase,
Economic analysis of Law,
contract,
transaction costs,
property rights,
and Coase Theorem
Publication Date
Winter December 31, 2013
Citation Information
Pinchao, E. (2013). Análisis económico del Derecho: El teorema de Coase aplicado en materia de contratos. Revista Justicia y Derecho, 1(2), 51-55.
Creative Commons license
This work is licensed under a Creative Commons CC_BY-NC-ND International License.