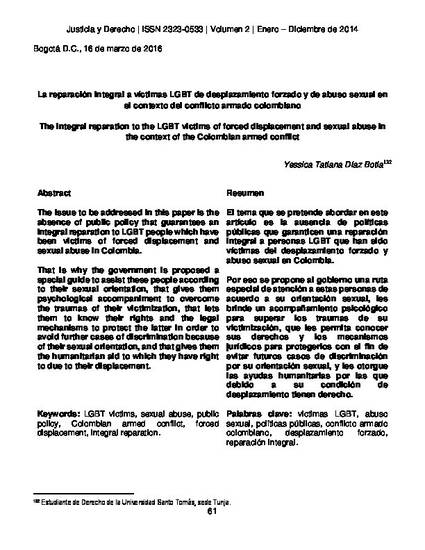 Article
La reparación integral a víctimas LGBT de desplazamiento forzado y de abuso sexual en el contexto del conflicto armado colombiano
Revista Justicia y Derecho (2014)
Abstract
Spanish Abstract:
 El tema que se pretende abordar en este artículo es la ausencia de políticas públicas que garanticen una reparación integral a personas LGBT que han sido víctimas del desplazamiento forzado y abuso sexual en Colombia. Por eso se propone al gobierno una ruta especial de atención a estas personas de acuerdo a su orientación sexual, les brinde un acompañamiento psicológico para superar los traumas de su victimización, que les permita conocer sus derechos y los mecanismos jurídicos para protegerlos con el fin de evitar futuros casos de discriminación por su orientación sexual, y les otorgue las ayudas humanitarias por las que debido a su condición de desplazamiento tienen derecho.
English Abstract:
 The issue to be addressed in this paper is the absence of public policy that guarantees an integral reparation to LGBT people which have been victims of forced displacement and sexual abuse in Colombia. That is why the government is proposed a special guide to assist these people according to their sexual orientation, that gives them psychological accompaniment to overcome the traumas of their victimization, that lets them to know their rights and the legal mechanisms to protect the latter in order to avoid further cases of discrimination because of their sexual orientation, and that gives them the humanitarian aid to which they have right to due to their displacement.
Keywords
víctimas LGBT,
abuso sexual,
políticas públicas,
conflicto armado colombiano,
desplazamiento forzado,
reparación integral,
LGBT victims,
sexual abuse,
public policy,
Colombian armed conflict,
forced displacement,
integral reparation
Publication Date
Winter December 31, 2014
Citation Information
Díaz, Y. T. (2014). Reparación integral a víctimas LGBT de desplazamiento forzado y de abuso sexual en el contexto del conflicto armado colombiano. Revista Justicia y Derecho, 2, 61-71.
Creative Commons license
This work is licensed under a Creative Commons CC_BY-NC-ND International License.