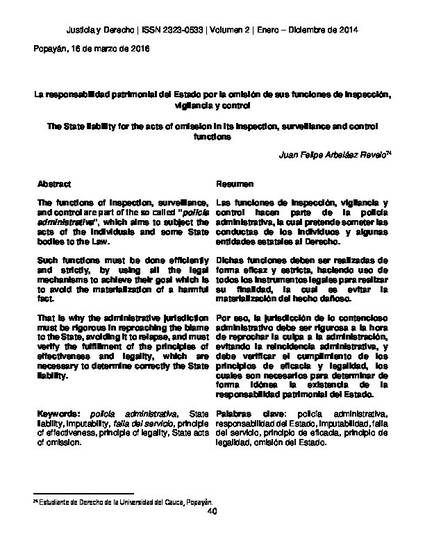 Article
La responsabilidad patrimonial del Estado por la omisión de sus funciones de inspección, vigilancia y control
Revista Justicia y Derecho (2014)
Abstract
Spanish Abstract:
 Las funciones de inspección, vigilancia y control hacen parte de la policía administrativa, la cual pretende someter las conductas de los individuos y algunas entidades estatales al Derecho. Dichas funciones deben ser realizadas de forma eficaz y estricta, haciendo uso de todos los instrumentos legales para realizar su finalidad, la cual es evitar la materialización del hecho dañoso.Por eso, la jurisdicción de lo contencioso administrativo debe ser rigurosa a la hora de reprochar la culpa a la administración, evitando la reincidencia administrativa, y debe verificar el cumplimiento de los principios de eficacia y legalidad, los cuales son necesarios para determinar de forma idónea la existencia de la responsabilidad patrimonial del Estado.
English Abstract:
 The functions of inspection, surveillance, and control are part of the so called "policía administrativa", which aims to subject the acts of the individuals and some State bodies to the Law. Such functions must be done efficiently and strictly, by using all the legal mechanisms to achieve their goal which is to avoid the materialization of a harmful fact. That is why the administrative jurisdiction must be rigorous in reproaching the blame to the State, avoiding it to relapse, and must verify the fulfillment of the principles of effectiveness and legality, which are necessary to determine correctly the State liability.
Keywords
policía administrativa,
responsabilidad del Estado,
imputabilidad,
falla del servicio,
principio de eficacia,
principio de legalidad,
omisión del Estado,
State liability,
imputability,
principle of effectiveness,
principle of legality,
State acts of omission
Publication Date
Winter December 31, 2014
Citation Information
Arbeláez, J. F. (2014). La responsabilidad patrimonial del Estado por la omisión en sus funciones de inspección, vigilancia y control. Revista Justicia y Derecho, 2, 40-52.
Creative Commons license
This work is licensed under a Creative Commons CC_BY-NC-ND International License.