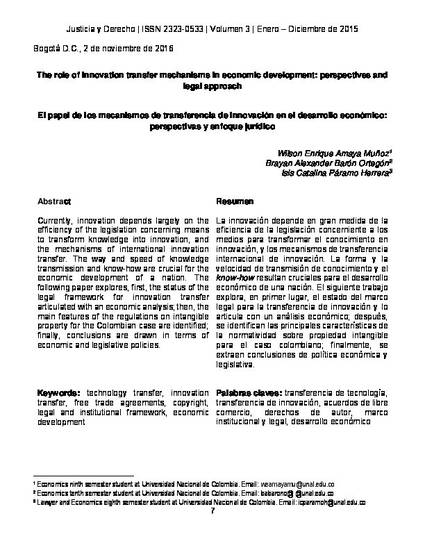 Article
The role of innovation transfer mechanisms in economic development: perspectives and legal approach
Revista Justicia y Derecho (2015)
Abstract
English Abstract: 
Currently, innovation depends largely on the efficiency of the legislation concerning means to transform knowledge into innovation, and the mechanisms of international innovation transfer. The way and speed of knowledge transmission and know-how are crucial for the economic development of a nation. The following paper explores, first, the status of the legal framework for innovation transfer articulated with an economic analysis; then, the main features of the regulations on intangible property for the Colombian case are identified; finally, conclusions are drawn in terms of economic and legislative policies.
Spanish Abstract:
 La innovación depende en gran medida de la eficiencia de la legislación concerniente a los medios para transformar el conocimiento en innovación, y los mecanismos de transferencia internacional de innovación. La forma y la velocidad de transmisión de conocimiento y el know-how resultan cruciales para el desarrollo económico de una nación. El siguiente trabajo explora, en primer lugar, el estado del marco legal para la transferencia de innovación y lo articula con un análisis económico; después, se identifican las principales características de la normatividad sobre propiedad intangible para el caso colombiano; finalmente, se extraen conclusiones de política económica y legislativa.
Keywords
technology transfer,
innovation transfer,
free trade agreements,
copyright,
legal and institutional framework,
economic development,
transferencia de tecnología,
transferencia de innovación,
acuerdos de libre comercio,
derechos de autor,
marco institucional y legal,
desarrollo económico
Publication Date
Winter December 31, 2015
Citation Information
Amaya, W., Barón, B., Páramo, I. (2015). The role of innovation transfer mechanisms in economic development: perspectives and legal approach. Revista Justicia y Derecho, 3, 7-16.
Creative Commons license
This work is licensed under a Creative Commons CC_BY-NC-ND International License.