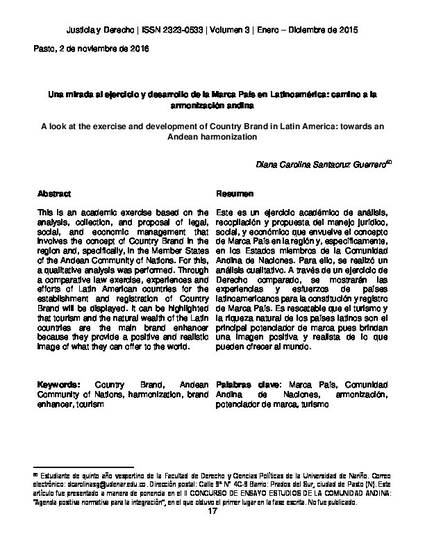 Article
Una mirada al ejercicio y desarrollo de la Marca País en Latinoamérica: camino a la armonización andina
Revista Justicia y Derecho (2015)
Abstract
Spanish Abstract:
 Este es un ejercicio académico de análisis, recopilación y propuesta del manejo jurídico, social, y económico que envuelve el concepto de Marca País en la región y, específicamente, en los Estados miembros de la Comunidad Andina de Naciones. Para ello, se realizó un análisis cualitativo. A través de un ejercicio de Derecho comparado, se mostrarán las experiencias y esfuerzos de países latinoamericanos para la constitución y registro de Marca País. Es rescatable que el turismo y la riqueza natural de los países latinos son el principal potenciador de marca pues brindan una imagen positiva y realista de lo que pueden ofrecer al mundo.
English Abstract: 
This is an academic exercise based on the analysis, collection, and proposal of legal, social, and economic management that involves the concept of Country Brand in the region and, specifically, in the Member States of the Andean Community of Nations. For this, a qualitative analysis was performed. Through a comparative law exercise, experiences and efforts of Latin American countries for the establishment and registration of Country Brand will be displayed. It can be highlighted that tourism and the natural wealth of the Latin countries are the main brand enhancer because they provide a positive and realistic image of what they can offer to the world.
Keywords
Country Brand,
Andean Community of Nations,
harmonization,
brand enhancer,
tourism,
Marca País,
Comunidad Andina de Naciones,
armonización,
potenciador de marca,
turismo
Publication Date
Winter December 31, 2015
Citation Information
Santacruz, D. (2015). Una mirada al ejercicio y desarrollo de la Marca País en Latinoamérica: camino a la armonización andina. Revista Justicia y Derecho, 3, 17-26.
Creative Commons license
This work is licensed under a Creative Commons CC_BY-NC-ND International License.