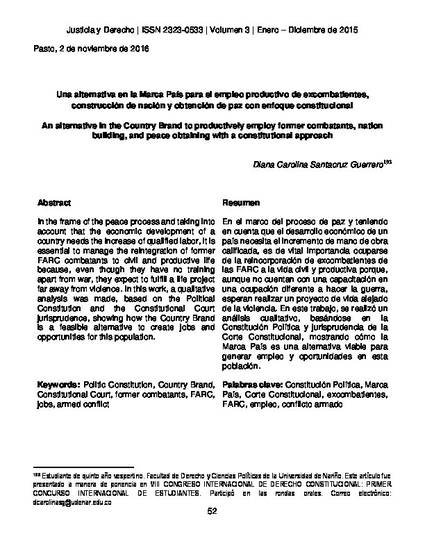 Article
Una alternativa en la marca país para el empleo productivo de excombatientes, construcción de nación y obtención de paz con enfoque constitucional
Revista Justicia y Derecho (2015)
Abstract
Spanish Abstract:
En el marco del proceso de paz y teniendo en cuenta que el desarrollo económico de un país necesita el incremento de mano de obra calificada, es de vital importancia ocuparse de la reincorporación de excombatientes de las FARC a la vida civil y productiva porque, aunque no cuentan con una capacitación en una ocupación diferente a hacer la guerra, esperan realizar un proyecto de vida alejado de la violencia. En este trabajo, se realizó un análisis cualitativo, basándose en la Constitución Política y jurisprudencia de la Corte Constitucional, mostrando cómo la Marca País es una alternativa viable para generar empleo y oportunidades en esta población.
English Abstract: 
In the frame of the peace process and taking into account that the economic development of a country needs the increase of qualified labor, it is essential to manage the reintegration of former FARC combatants to civil and productive life because, even though they have no training apart from war, they expect to fulfill a life project far away from violence. In this work, a qualitative analysis was made, based on the Political Constitution and the Constitutional Court jurisprudence, showing how the Country Brand is a feasible alternative to create jobs and opportunities for this population.
Keywords
Politic Constitution,
Country Brand,
Constitutional Court,
former combatants,
FARC,
jobs,
armed conflict,
Constitución Política,
Marca País,
Corte Constitucional,
excombatientes,
empleo,
conflicto armado
Publication Date
Winter December 31, 2015
Citation Information
Santacruz, D. (2015). Una alternativa en la Marca País para el empleo productivo de excombatientes, construcción de nación y obtención de paz con enfoque constitucional. Revista Justicia y Derecho, 3, 52-63.
Creative Commons license
This work is licensed under a Creative Commons CC_BY-NC-ND International License.