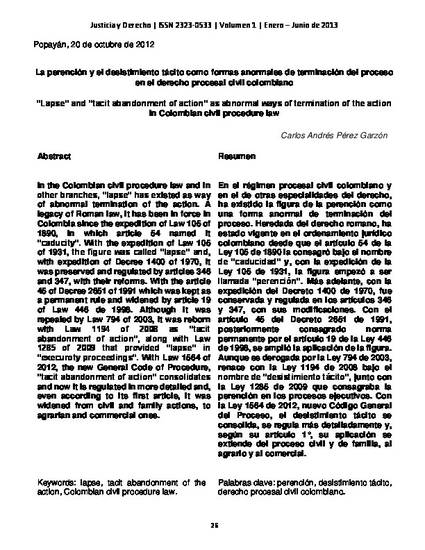 Article
La perención y el desistimiento tácito como formas anormales de terminación del proceso en el derecho procesal civil colombiano
Revista Justicia y Derecho (2013)
Abstract
Spanish Abstract:
En el régimen procesal civil colombiano y en el de otras especialidades del derecho, ha existido la figura de la perención como una forma anormal de terminación del proceso. Heredada del derecho romano, ha estado vigente en el ordenamiento jurídico colombiano desde que el artículo 54 de la Ley 105 de 1890 la consagró bajo el nombre de "caducidad" y, con la expedición de la Ley 105 de 1931, la figura empezó a ser llamada "perención". Más adelante, con la expedición del Decreto 1400 de 1970, fue conservada y regulada en los artículos 346 y 347, con sus modificaciones. Con el artículo 45 del Decreto 2651 de 1991, posteriormente consagrado norma permanente por el artículo 19 de la Ley 446 de 1998, se amplió la aplicación de la figura. Aunque es derogada por la Ley 794 de 2003, renace con la Ley 1194 de 2008 bajo el nombre de "desistimiento tácito", junto con la Ley 1285 de 2009 que consagraba la perención en los procesos ejecutivos. Con la Ley 1564 de 2012, nuevo Código General del Proceso, el desistimiento tácito se consolida, se regula más detalladamente y, según su artículo 1°, su aplicación se extiende del proceso civil y de familia, al agrario y al comercial.
English Abstract:
In the Colombian civil procedure law and in other branches, "lapse" has existed as way of abnormal termination of the action. A legacy of Roman law, it has been in force in Colombia since the expedition of Law 105 of 1890, in which article 54 named it "caducity". With the expedition of Law 105 of 1931, the figure was called "lapse" and, with expedition of Decree 1400 of 1970, it was preserved and regulated by articles 346 and 347, with their reforms. With the article 45 of Decree 2651 of 1991 which was kept as a permanent rule and widened by article 19 of Law 446 de 1998. Although it was repealed by Law 794 of 2003, it was reborn with Law 1194 of 2008 as "tacit abandonment of action", along with Law 1285 of 2009 that provided "lapse" in "execuroty proceedings". With Law 1564 of 2012, the new General Code of Procedure, "tacit abandonment of action" consolidates and now it is regulated in more detailed and, even according to its first article, it was widened from civil and family actions, to agrarian and commercial ones.
Keywords
perención,
desistimiento tácito,
derecho procesal civil colombiano,
lapse,
tacit abandonment of the action,
Colombian civil procedure law
Publication Date
Winter February 1, 2013
Citation Information
Carlos Pérez-Garzón. "La perención y el desistimiento tácito como formas anormales de terminación del proceso en el derecho procesal civil colombiano"
Revista Justicia y Derecho
Vol. 1 Iss. 1 (2013) p. 26 - 45
Available at: http://works.bepress.com/carlospg94/1/
Creative Commons license
This work is licensed under a Creative Commons CC_BY-NC-ND International License.