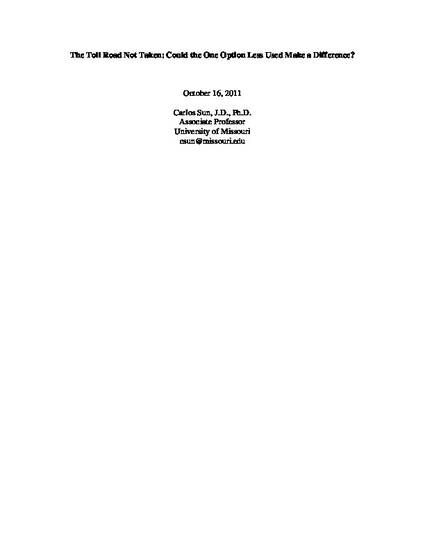 Unpublished Paper
The Toll Road Not Taken: Could the One Option Less Used Make a Difference?
ExpressO (2011)
Abstract
There is a growing transportation financing crisis in the United States caused by a rapidly aging transportation infrastructure, a growing demand for transportation, soaring infrastructure costs and a lack of systematic planning to account for these multiple trends. Potholes, deteriorating bridges and cracked pavements are everywhere, regardless of geographical location, climate or population density. Such infrastructure deterioration negatively impacts the environment via pollution, wasted fuel and inefficient travel patterns. Courts in states such as California have responded pragmatically to the crisis by opening the door to road tolling in various forms. This shift in states' attitudes toward toll roads comes after a half-century period following the 1956 Highway Act during which courts in some states held that public roads could not be tolled. However, not all states have been willing to validate the legal authority to use tolls as a method of financing transportation facilities. For example, Missouri courts have taken a categorical approach toward tolling in their jurisprudence that continues to raise doubts about the legality of tolling within the state. This paper argues that where toll road decisions have diverged, states like California took the more practical approach, and perhaps it will make all the difference.
Keywords
toll roads,
infrastructure,
transportation financing
Publication Date
October 16, 2011
Citation Information
Carlos C Sun. "The Toll Road Not Taken: Could the One Option Less Used Make a Difference?"
ExpressO
(2011)
Available at: http://works.bepress.com/carlos_sun/2/