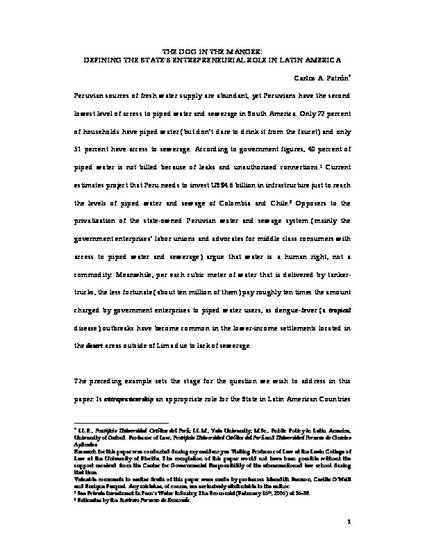 Presentation
The Dog in the Manger: Defining the State's Entrepreneurial Role in Latin America
Seminario en Latinoamérica de Teoría Constitucional y Política (SELA), organized by the Yale Law School (2006)
Abstract
Is entrepreneurship an appropriate role for the State in Latin American Countries? We contend that there is a solid theoretical and empirical basis to sustain that it is not. While there is a growing sector that opposes furthering privatization efforts carried out in the region over the past two decades, we argue that public perception is largely fuelled by shortcomings rooted in policy implementation mismanagement of past divestiture processes that does not invalidate the premises upon which privatization of state-owned enterprises stands. It does, however, reveal the paramount importance of introducing policies to foster greater transparency and political accountability into the divestiture processes and to strengthen the regulatory and institutional framework under which privatized firms must endure, all of which will require greater civil community involvement and citizen oversight schemes, effective communication, profit-sharing, inclusive dialogue and consensus building with labor and other interest groups.
Publication Date
June, 2006
Citation Information
Carlos A. Patrón. "The Dog in the Manger: Defining the State's Entrepreneurial Role in Latin America"
Seminario en Latinoamérica de Teoría Constitucional y Política (SELA), organized by the Yale Law School
(2006)
Available at: http://works.bepress.com/carlos_patron/28/