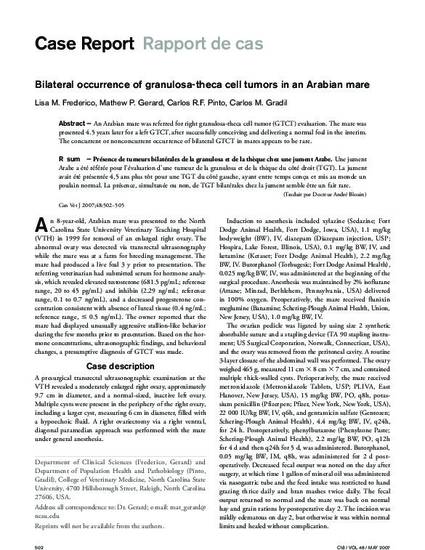 Article
Bilateral occurrence of granulosa-theca cell tumors in an Arabian mare
Canadian Veterinary Journal (2007)
Abstract
An Arabian mare was referred for right granulosa-theca cell tumor (GTCT) evaluation. The mare was presented 4.5 years later for a left GTCT, after successfully conceiving and delivering a normal foal in the interim. The concurrent or nonconcurrent occurrence of bilateral GTCT in mares appears to be rare.
Citation Information
Carlos M. Gradil, L. Frederico, M. Gerard and C. Pinto. "Bilateral occurrence of granulosa-theca cell tumors in an Arabian mare"
Canadian Veterinary Journal
Vol. 48 Iss. 5 (2007)
Available at: http://works.bepress.com/carlos_gradil/5/