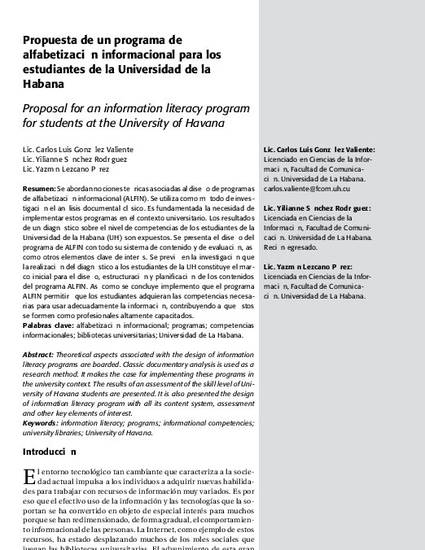 Article
Proposal for an information literacy program for students at the University of Havana
Bibliotecas. Anales de Investigación (2013)
Abstract
Theoretical aspects associated with the design of information literacy programs are boarded. Classic documentary analysis is used as a research method. It makes the case for implementing these programs in the university context. The results of an assessment of the skill level of University of Havana students are presented. It is also presented the design of information literacy program with all its content system, assessment and other key elements of interest.
Keywords
information literacy; programs; informational competencies; university libraries; University of Havana.
Citation Information
Carlos Luis González-Valiente, Yilianne Sánchez Rodríguez and Yazmín Lezcano Pérez. "Proposal for an information literacy program for students at the University of Havana"
Bibliotecas. Anales de Investigación
Vol. 8-9 Iss. 8-9 (2013)
Available at: http://works.bepress.com/carlos_gonzalez-valiente/4/