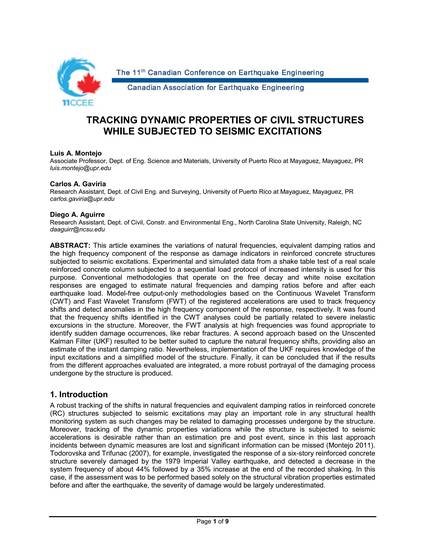 Article
Tracking Dynamic Properties of Civil Structures while Subjected to Seismic Excitations
11th Canadian Conference on Earthquake Engineering (2015)
Abstract
This article examines the variations of natural frequencies, equivalent damping ratios and the high frequency component of the response as damage indicators in reinforced concrete structures subjected to seismic excitations. Experimental and simulated data from a shake table test of a real scale reinforced concrete column subjected to a sequential load protocol of increased intensity is used for this purpose. Conventional methodologies that operate on the free decay and white noise excitation responses are engaged to estimate natural frequencies and damping ratios before and after each earthquake load. Model-free output-only methodologies based on the Continuous Wavelet Transform (CWT) and Fast Wavelet Transform (FWT) of the registered accelerations are used to track frequency shifts and detect anomalies in the high frequency component of the response, respectively. It was found that the frequency shifts identified in the CWT analyses could be partially related to severe inelastic excursions in the structure. Moreover, the FWT analysis at high frequencies was found appropriate to identify sudden damage occurrences, like rebar fractures. A second approach based on the Unscented Kalman Filter (UKF) resulted to be better suited to capture the natural frequency shifts, providing also an estimate of the instant damping ratio. Nevertheless, implementation of the UKF requires knowledge of the input excitations and a simplified model of the structure. Finally, it can be concluded that if the results from the different approaches evaluated are integrated, a more robust portrayal of the damaging process undergone by the structure is produced.
Publication Date
Summer July 22, 2015
Citation Information
carlos gaviria, Luis Montejo and Diego Aguirre. "Tracking Dynamic Properties of Civil Structures while Subjected to Seismic Excitations"
11th Canadian Conference on Earthquake Engineering
(2015)
Available at: http://works.bepress.com/carlos-gaviria/1/