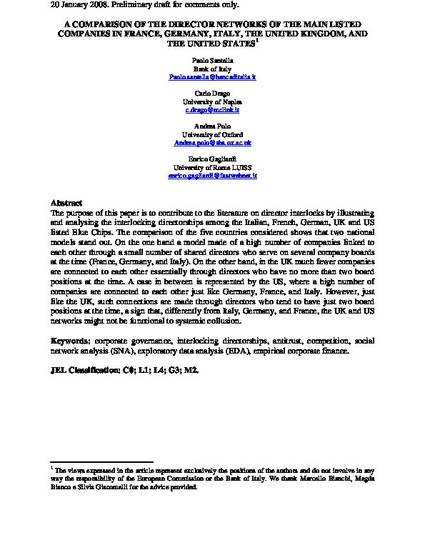 Unpublished Paper
A COMPARISON AMONG THE DIRECTOR NETWORKS IN THE MAIN LISTED COMPANIES IN FRANCE, GERMANY, ITALY, AND THE UNITED KINGDOM
Midterm Meeting 2009, University of Hamburg (2009)
Abstract
The purpose of this paper is to contribute to the literature on director interlocks by illustrating and analysing the interlocking directorships among the Italian, French, German, UK and US listed Blue Chips. The comparison of the five countries considered shows that two national models stand out. On the one hand a model made of a high number of companies linked to each other through a small number of shared directors who serve on several company boards at the time (France, Germany, and Italy). On the other hand, in the UK much fewer companies are connected to each other essentially through directors who have no more than two board positions at the time. A case in between is represented by the US, where a high number of companies are connected to each other just like Germany, France, and Italy. However, just like the UK, such connections are made through directors who tend to have just two board positions at the time, a sign that, differently from Italy, Germany, and France, the UK and US networks might not be functional to systemic collusion.
Keywords
Corporate Governance,
Interlocking Directorships,
Board Turnover,
Antitrust,
Competition,
Social Network Analysis (SNA),
Exploratory Data Analysis (EDA),
Empirical Corporate Finance
Publication Date
Winter January 20, 2009
Citation Information
Paolo Santella, Carlo Drago, Andrea Polo and Enrico Gagliardi. "A COMPARISON AMONG THE DIRECTOR NETWORKS IN THE MAIN LISTED COMPANIES IN FRANCE, GERMANY, ITALY, AND THE UNITED KINGDOM"
Midterm Meeting 2009, University of Hamburg
(2009)
Available at: http://works.bepress.com/carlo_drago/76/