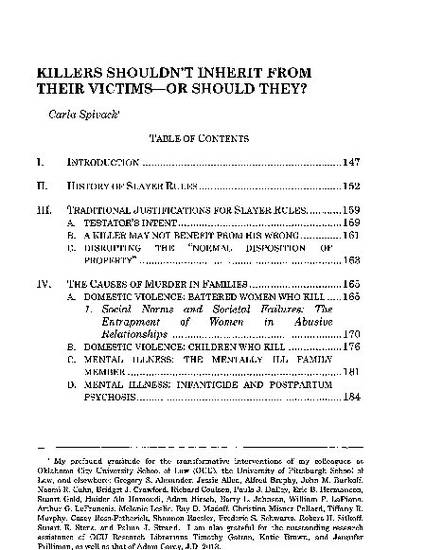 Article
Killers Shouldn't Inherit from Their Victims-Or Should They?
48 Ga. L. Rev. 145 (2013)
Abstract
The article offers a profound reassessment of so-called "Slayer Rules," laws that, in most states, bar killers from inheriting from their victims. For the first time in the literature, this piece questions the underlying rationale for these rules by examining the context of family violence and mental illness in which these killing occur, and argues that, given that context, they are often neither legally nor morally justified. At first glance, the idea behind Slayer Rules seems reasonable, indeed, morally obvious: a killer should not be able to profit from his or her crime. This truism, however, may not necessarily be true. Where murder and inheritance overlap, we often find family. When family members kill one another, the equities are often cloudy. The sociopathic child who kills a grandparent to hasten an inheritance is an anomaly. In reality, murders within families are usually a product of that family's harmful, often violent, dynamics, from which, because of the failures of state and society, a family member sometimes can find no escape except murder. Most women who kill their husbands or partners do so to protect themselves or their children from violence. Most children who kill a parent act to stop severe and prolonged abuse by that parent; most of the other child killers are acutely mentally ill. Most mothers who kill children suffer from postpartum psychosis, a severe mental illness whose symptoms include visual and auditory hallucinations and delusions. Once the tragedy has occurred, the legal system often fails to address the defendant's plight, offering inadequate representation, barring effective defenses at trial, and extorting guilty pleas that may not reflect actual guilt. Given this reality, it's not clear that barring the defendant's inheritance is just, fair, or even sound policy. I offer a range of solutions to the problem these rules pose, ultimately setting forth a draft statute with a list of factors which would create a question of fact as to whether the killing was the product of family violence or mental illness, and preventing application of the Rules if such is the case.
Citation Information
Carla Spivack.
Killers Shouldn't Inherit From Their Victims-Or Should They?
48 Ga L. Rev.
145 (2013).