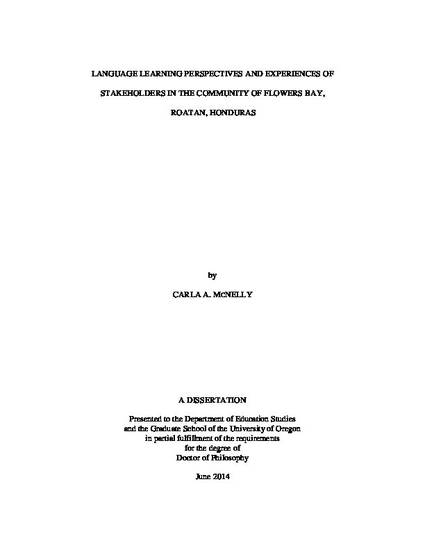 Dissertation
Language Learning Perspectives and Experiences of Stakeholders in the Community of Flowers Bay, Roatan, Honduras
(2014)
Abstract
When searching for pluralistic models of bilingual education, looking globally for examples is beneficial. The overarching global perspective toward bilingual and multilingual education supports literacy in the student's first, second, and including the possibility of a third or more languages to attain socio-political pluralism. This dissertation project will specifically examine the voices of stakeholders in the local community of Flowers Bay, Roatan, Honduras where the mission of bilingual education is a pluralistic society. The goal of the research study is to examine the perspectives and experiences around language learning within the lens of language as a problem, a right, and a resource of stakeholders in their local community. 
Publication Date
June, 2014
Degree
Doctor of Philosophy
Department
Department of Education Studies
Advisors
Dr. Edward M. Olivos, Dr. CHiXapkaid (Michael Pavel), Dr. Juliet A. Baxter, Dr. Deborah Olson
Citation Information
Carla A McNelly. "Language Learning Perspectives and Experiences of Stakeholders in the Community of Flowers Bay, Roatan, Honduras" (2014)
Available at: http://works.bepress.com/carla_mcnelly/5/
Creative Commons license
This work is licensed under a Creative Commons CC_BY-NC-ND International License.