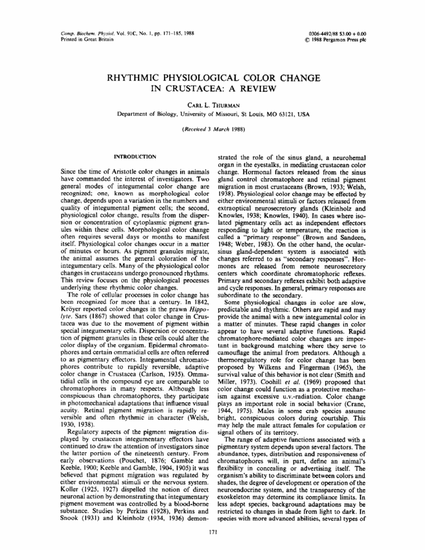 Article
Rhythmic Physiological Color Change in Crustacea: A Review
Comparative Biochemistry and Physiology Part C: Comparative Pharmacology (1988)
Abstract
Since the time of Aristotle color changes in animals have commanded the interest of investigators. Two
general modes of integumental color change are recognized; one, known as morphological color
change, depends upon a variation in the numbers and quality of integumental pigment cells; the second,
physiological color change, results from the dispersion or concentration of cytoplasmic pigment granules
within these cells. Morphological color change often requires several days or months to manifest
itself. Physiological color changes occur in a matter of minutes or hours. As pigment granules migrate,
the animal assumes the general coloration of the integumentary cells. Many of the physiological color
changes in crustaceans undergo pronounced rhythms. This review focuses on the physiological processes
underlying these rhythmic color changes. 
DOI
10.1016/0742-8413(88)90184-3
Citation Information
Carl L. Thurman. "Rhythmic Physiological Color Change in Crustacea: A Review"
Comparative Biochemistry and Physiology Part C: Comparative Pharmacology
Vol. 91 Iss. 1 (1988) p. 171 - 185
Available at: http://works.bepress.com/carl_thurman/20/