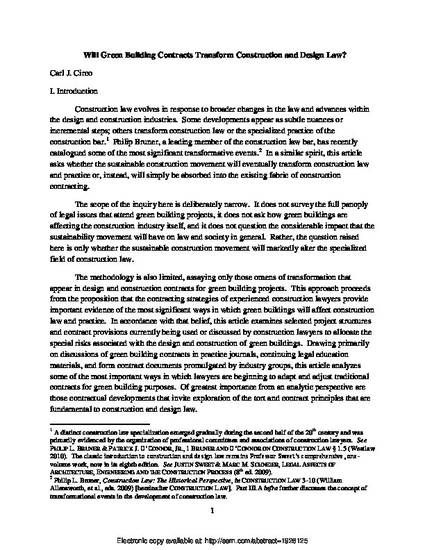 Article
Will Green Building Contracts Transform Construction and Design Law?
Urban Lawyer (2011)
Abstract
The sustainable construction movement may eventually transform construction law and practice. Alternatively, sustainability in the built environment may simply be absorbed into the existing fabric of construction contracting. Using the lens of design and construction law theory, this article examines selected project structures and contract provisions being used or proposed in the design and construction industry to allocate the special risks associated with green building standards and objectives. Green building contracts will inevitably reflect industry practices derived from theories of liability and risk allocation that have dominated construction and design law for decades. But established practices and legal theories do not necessarily match the new realities of green building design and construction. This article analyzes some of the most important issues relating to the contracting structures and provisions that lawyers are beginning to adapt and adjust for green building projects, especially those developments that invite exploration of the tort and contract theories that are fundamental to construction and design law.
Keywords
sustainability,
sustainable development,
sustainable construction,
green buildings,
construction contracts,
design contracts,
project delivery systems,
construction industry,
green design,
sustainable design,
construction law
Citation Information
Carl J. Circo. "Will Green Building Contracts Transform Construction and Design Law?"
Urban Lawyer
Vol. 43 (2011)
Available at: http://works.bepress.com/carl_circo/6/