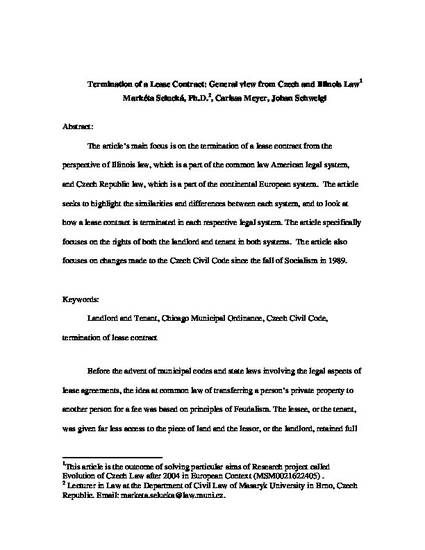 Unpublished Paper
Termination of a Lease Contract: General view from Czech and Illinois Law
ExpressO (2008)
Abstract
Abstract:
The article's main focus is on the termination of a lease contract from the perspective of Illinois law, which is a part of the common law American legal system, and Czech Republic law, which is a part of the continental European system. The article seeks to highlight the similarities and differences between each system, and to look at how a lease contract is terminated in each respective legal system. The article specifically focuses on the rights of both the landlord and tenant in both systems. The article also focuses on changes made to the Czech Civil Code since the fall of Socialism in 1989.
Keywords:
Landlord and Tenant, Chicago Municipal Ordinance, Czech Civil Code, termination of lease contract
Keywords
lease termination,
landlord and tenant,
comparative legal studies
Publication Date
November 24, 2008
Citation Information
Carissa Meyer, Marketa Selucka and Johan Schweigl. "Termination of a Lease Contract: General view from Czech and Illinois Law"
ExpressO
(2008)
Available at: http://works.bepress.com/carissa_meyer/1/