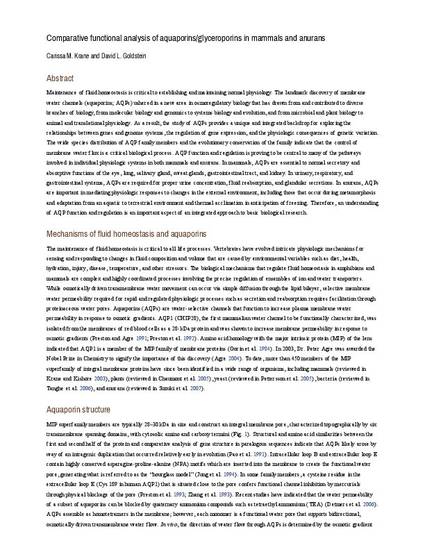 Article
Comparative Functional Analysis of Aquaporins/Glyceroporins in Mammals and Anurans
Mammalian Genome
Publication Date
7-1-2007
Abstract
Maintenance of fluid homeostasis is critical to establishing and maintaining normal physiology. The landmark discovery of membrane water channels (aquaporins; AQPs) ushered in a new area in osmoregulatory biology that has drawn from and contributed to diverse branches of biology, from molecular biology and genomics to systems biology and evolution, and from microbial and plant biology to animal and translational physiology. As a result, the study of AQPs provides a unique and integrated backdrop for exploring the relationships between genes and genome systems, the regulation of gene expression, and the physiologic consequences of genetic variation. The wide species distribution of AQP family members and the evolutionary conservation of the family indicate that the control of membrane water flux is a critical biological process. AQP function and regulation is proving to be central to many of the pathways involved in individual physiologic systems in both mammals and anurans. In mammals, AQPs are essential to normal secretory and absorptive functions of the eye, lung, salivary gland, sweat glands, gastrointestinal tract, and kidney. In urinary, respiratory, and gastrointestinal systems, AQPs are required for proper urine concentration, fluid reabsorption, and glandular secretions. In anurans, AQPs are important in mediating physiologic responses to changes in the external environment, including those that occur during metamorphosis and adaptation from an aquatic to terrestrial environment and thermal acclimation in anticipation of freezing. Therefore, an understanding of AQP function and regulation is an important aspect of an integrated approach to basic biological research.
Document Version
Postprint
Copyright
Copyright © 2007, Springer
Citation Information
Carissa M. Krane and David L. Goldstein. "Comparative Functional Analysis of Aquaporins/Glyceroporins in Mammals and Anurans"
Mammalian Genome
Vol. 18 Iss. 6 (2007)
Available at: http://works.bepress.com/carissa_krane/7/