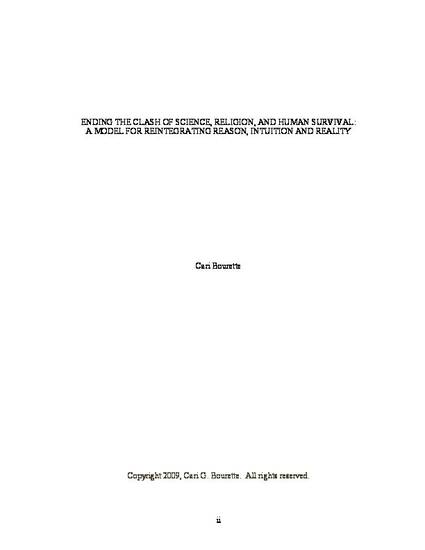 Article
Ending the Clash of Science, Religion, and Human Survival: A Model for Reintegrating Reason, Intuition, and Reality
Masters Theses & Specialist Projects (2009)
Abstract
While there is occasional interest in the reconciliation of science and religion, a system for incorporating both rational and intuitive information in making sense of the world and making informed decisions using the integration of this knowledge is generally unavailable in the modern world. Many religions throughout the world record a long ago period of "oneness" with the divine, with nature, with the universe, which is tragically interrupted by estrangement or separation. By delving into what may seem to be a foreign venue to discover "Reality" for a member of modern Western society, what may be discovered are remnants of a dim archetypal memory of such a long ago time of "Oneness." It is there that a solution may be found that will assist modern humans in a reclamation of connection with their world, their universe, and in doing so, with themselves.
Keywords
holistic,
archetype,
model,
sociey,
indigenous,
eastern,
religion,
metaphysics,
ekacakra
Citation Information
Cari Bourette. "Ending the Clash of Science, Religion, and Human Survival: A Model for Reintegrating Reason, Intuition, and Reality"
Masters Theses & Specialist Projects
(2009)
Available at: http://works.bepress.com/cari_bourette/5/