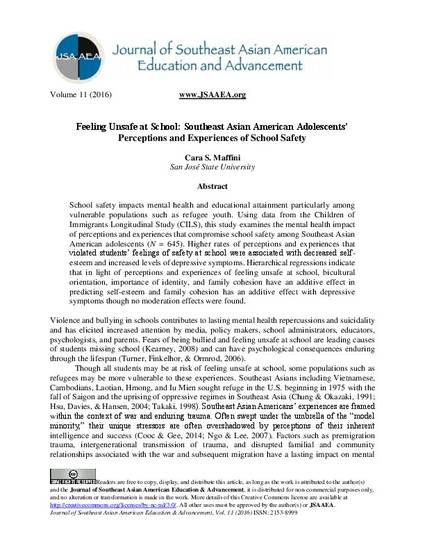 Article
Feeling Unsafe at School: Southeast Asian American Adolescents' Perceptions and Experiences of School Safety
Journal of Southeast Asian American Education and Advancement
Abstract
School safety impacts mental health and educational attainment particularly among vulnerable populations such as refugee youth. Using data from the Children of Immigrants Longitudinal Study (CILS), this study examined the mental health impact of perceptions and experiences that compromise school safety among Southeast Asian American adolescents (N = 645). Higher rates of perceptions and experiences that violated students' feelings of safety at school were associated with decreased self-esteem and increased levels of depressive symptoms. Hierarchical regressions indicate that in light of perceptions and experiences of feeling unsafe at school, bicultural orientation, importance of identity, and family cohesion have an additive effect in predicting self-esteem and family cohesion has an additive effect with depressive symptoms though no moderation effects were found.
Citation Information
Cara S. Maffini. "Feeling Unsafe at School: Southeast Asian American Adolescents' Perceptions and Experiences of School Safety"
Available at: http://works.bepress.com/cara_maffini/18/