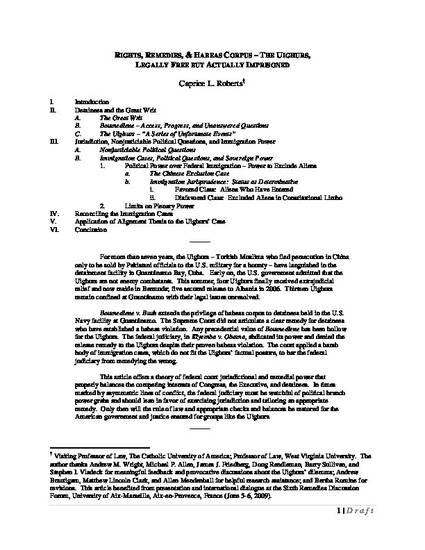 Article
Rights, Remedies, & Habeas Corpus -- The Uighurs, Legally Free but Actually Imprisoned
Georgetown Immigration Law Review (2009)
Abstract
For more than seven years, the Uighurs – Turkish Muslims who fled persecution in China only to be sold by Pakistani officials to the U.S. military for a bounty – have languished in the detainment facility in Guantánamo Bay, Cuba. Early on, the U.S. government admitted that the Uighurs are not enemy combatants. This summer, four Uighurs finally received extrajudicial relief and now reside in Bermuda; five secured release to Albania in 2006. Thirteen Uighurs remain confined at Guantánamo with their legal issues unresolved. Boumediene v. Bush extends the privilege of habeas corpus to detainees held in the U.S. Navy facility at Guantánamo. The Supreme Court did not articulate a clear remedy for detainees who have established a habeas violation. Any precedential value of Boumediene has been hollow for the Uighurs. The federal judiciary, in Kiyemba v. Obama, abdicated its power and denied the release remedy to the Uighurs despite their proven habeas violation. The court applied a harsh body of immigration cases, which do not fit the Uighurs' factual posture, to bar the federal judiciary from remedying the wrong. This article offers a theory of federal court jurisdictional and remedial power that properly balances the competing interests of Congress, the Executive, and detainees. In times marked by asymmetric lines of conflict, the federal judiciary must be watchful of political branch power grabs and should lean in favor of exercising jurisdiction and tailoring an appropriate remedy. Only then will the rule of law and appropriate checks and balances be restored for the American government and justice ensured for groups like the Uighurs.
Keywords
jurisdiction,
remedies,
habeas corpus,
Uighurs,
Guantánamo,
Boumediene,
Kiyemba
Publication Date
Fall 2009
Citation Information
Caprice L. Roberts. "Rights, Remedies, & Habeas Corpus -- The Uighurs, Legally Free but Actually Imprisoned"
Georgetown Immigration Law Review
Vol. 24 Iss. 1 (2009)
Available at: http://works.bepress.com/caprice_roberts/2/