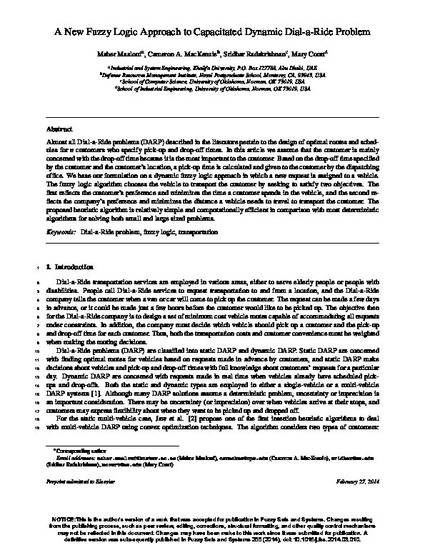 Article
A new fuzzy logic approach to capacitated dynamic Dial-a-Ride problem
Fuzzy Sets and Systems (2014)
Abstract
Almost all Dial-a-Ride problems (DARP) described in the literature pertain to the design of optimal routes and schedules for n customers who specify pick-up and drop-off times. In this article we assume that the customer is mainly concerned with the drop-off time because it is the most important to the customer. Based on the drop-off time specified by the customer and the customer's location, a pick-up time is calculated and given to the customer by the dispatching office. We base our formulation on a dynamic fuzzy logic approach in which a new request is assigned to a vehicle. The fuzzy logic algorithm chooses the vehicle to transport the customer by seeking to satisfy two objectives. The first reflects the customer's preference and minimizes the time a customer spends in the vehicle, and the second reflects the company's preference and minimizes the distance a vehicle needs to travel to transport the customer. The proposed heuristic algorithm is relatively simple and computationally efficient in comparison with most deterministic algorithms for solving both small and large sized problems.
Keywords
Dial-a-Ride problem,
Fuzzy logic,
transportation
Publication Date
November, 2014
Citation Information
Maher Maalouf, Cameron A. MacKenzie, Sridhar Radakrishnan and Mary Court. "A new fuzzy logic approach to capacitated dynamic Dial-a-Ride problem"
Fuzzy Sets and Systems
Vol. 255 (2014)
Available at: http://works.bepress.com/cameron_mackenzie/8/