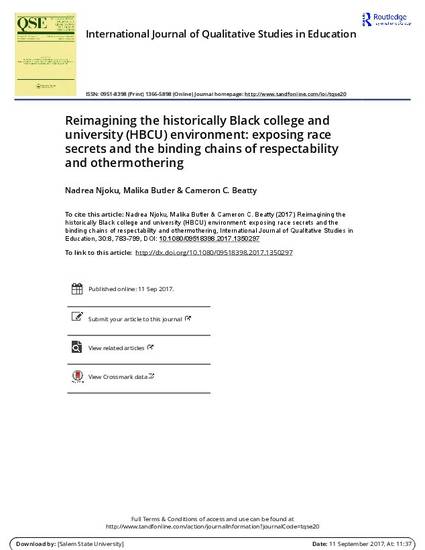 Article
Reimagining the historically Black college and university HBCU environment exposing race secrets and the binding chains of respectability and.pdf
International Journal of Qualitative Studies in Education (2017)
Abstract
This article investigates how the intersections of gender, race, policy, and student differences at historically Black colleges and universities (HBCUs) can impact student experience. Such an environment can displace and penalize those who do not adhere to the uniformity of heteronormative gender roles or respectability politics. Using intersecting themes that have emerged from press coverage of HBCUs as a departure, this article illustrates the ways Black respectability and conservatism are maintained through campus policy and creates an exclusionary environment for students on the margins. Through the conceptual lenses of respectability and othermothering we deconstruct this environment and opine that HBCUs, in these specific cases, stand in opposition to their founding mission of inclusion by perpetuating heteronormativity, stringent gender roles, and reinforce White supremacy. Ultimately, we call for HBCUs to reimagine the capability of campus environments to embrace variations of Blackness and disrupt marginalizing practices rooted in politics of respectability.
Keywords
Historically Black colleges and universities,
race,
campus enviornments,
policy
Publication Date
September 11, 2017
DOI
http://dx.doi.org/10.1080/09518398.2017.1350297
Citation Information
Nadrea Njoku, Malika Butler and Cameron Beatty. "Reimagining the historically Black college and university HBCU environment exposing race secrets and the binding chains of respectability and.pdf"
International Journal of Qualitative Studies in Education
Vol. 30 Iss. 8 (2017) p. 783 - 799
Available at: http://works.bepress.com/cameron-beatty/5/