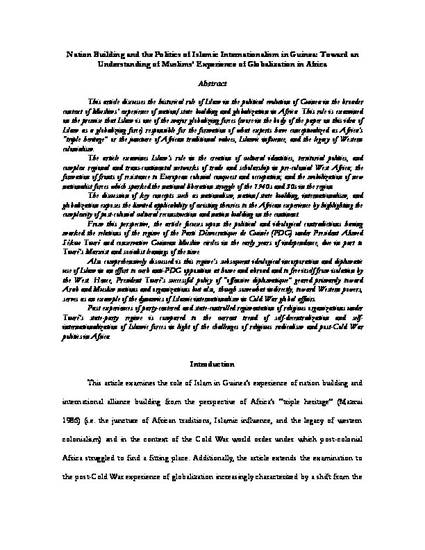 Article
Nation Building and the Politics of Islamic Internationalism in Guinea: Toward an Understanding of Muslims' Experience of Globalization in Africa
Contemporary Islam
Publication/Presentation Date
1-1-2007
Abstract/Description
This article discusses the historical role of Islam in the political evolution of Guinea in the broader context of Muslims' experience of nation/state building and globalization in Africa. This role is examined on the premise that Islam is one of the major globalizing forces (more in the body of the paper on this idea of Islam as a globalizing force) responsible for the formation of what experts have conceptualized as Africa's "triple heritage" or the juncture of African traditional values, Islamic influence, and the legacy of Western colonialism. The article examines Islam's role in the creation of cultural identities, territorial polities, and complex regional and trans-continental networks of trade and scholarship in pre-colonial West Africa; the formation of fronts of resistance to European colonial conquest and occupation; and the mobilization of new nationalist forces which sparked the national liberation struggle of the 1940s and 50s in the region. The discussion of key concepts such as nationalism, nation/state building, internationalism, and globalization exposes the limited applicability of existing theories to the African experience by highlighting the complexity of post-colonial cultural reconstruction and nation building on the continent. From this perspective, the article focuses upon the political and ideological contradictions having marked the relations of the regime of the Parti Démocratique de Guinée (PDG) under President Ahmed Sékou Touré and conservative Guinean Muslim circles in the early years of independence, due in part to Touré's Marxist and socialist leanings of the time. Also comprehensively discussed is this regime's subsequent ideological incorporation and diplomatic use of Islam in an effort to curb anti-PDG opposition at home and abroad and to free itself from isolation by the West. Hence, President Touré's successful policy of "offensive diplomatique" geared primarily toward Arab and Muslim nations and organizations but also, though somewhat indirectly, toward Western powers, serves as an example of the dynamics of Islamic internationalism in Cold War global affairs. Past experiences of party-centered and state-controlled regimentation of religious organizations under Touré's state-party regime is compared to the current trend of self-decentralization and self-internationalization of Islamic forces in light of the challenges of religious radicalism and post-Cold War politics in Africa.
Citation Information
Mohamed S. Camara. "Nation Building and the Politics of Islamic Internationalism in Guinea: Toward an Understanding of Muslims' Experience of Globalization in Africa"
Contemporary Islam
Vol. 1 Iss. 2 (2007) p. 155 - 172
Available at: http://works.bepress.com/camara_mohamed/20/