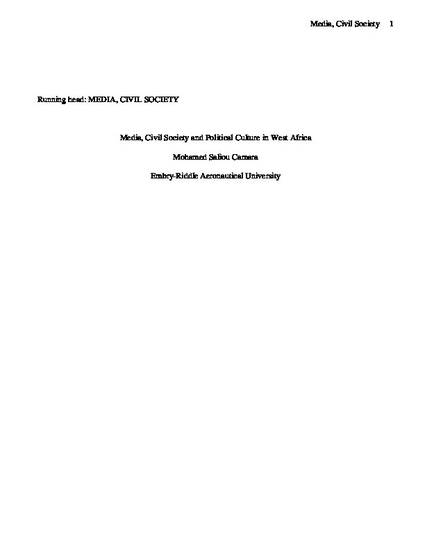 Article
Media, Civil Society and Political Culture in West Africa
Ecquid Novi: African Journalism Studies
Publication/Presentation Date
1-1-2008
Abstract/Description
From the premise that a free and democratic society is impossible without free and responsible media and an active civil society and that freedom and democracy must evolve from within a particular society in order to mature into a way of life for the society and its media, the present study examines the symbiotic role of the media and civil society in West Africa's struggle for democratic governance. It addresses the question of the independence and accountability of West Africa's media vis-à-vis foreign donors, local business and political forces along with the effects on local audiences of giant Western/global media organizations competing in the region. The article concludes that West Africans must design their democratic model; that the West African media must be guided by normative ethics frameworks rooted in the values that inspire the region's democratic aspirations, and that global media ethics principals should essentially serve as supplemental guidelines to those frameworks.
Citation Information
Mohamed Saliou Camara. "Media, Civil Society and Political Culture in West Africa"
Ecquid Novi: African Journalism Studies
Vol. 29 Iss. 2 (2008) p. 210 - 229
Available at: http://works.bepress.com/camara_mohamed/16/