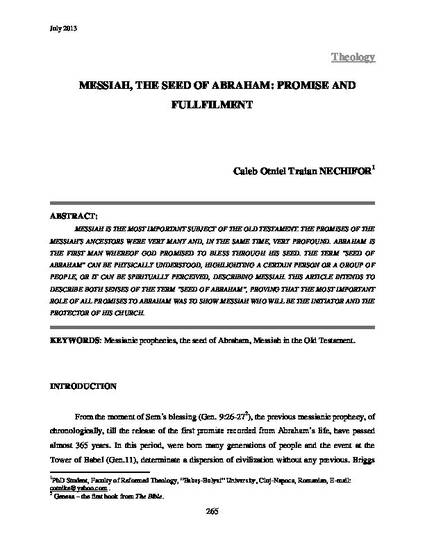 Article
Messiah, The Seed of Abraham: Promise and Fullfilment
Research and Science Today Supplement 2013 (2013)
Abstract
MESSIAH IS THE MOST IMPORTANT SUBJECT OF THE OLD TESTAMENT. THE PROMISES OF THE MESSIAH'S ANCESTORS WERE VERY MANY AND, IN THE SAME TIME, VERY PROFOUND. ABRAHAM IS THE FIRST MAN WHEREOF GOD PROMISED TO BLESS THROUGH HIS SEED. THE TERM "SEED OF ABRAHAM" CAN BE PHYSICALLY UNDERSTOOD, HIGHLIGHTING A CERTAIN PERSON OR A GROUP OF PEOPLE, OR IT CAN BE SPIRITUALLY PERCEIVED, DESCRIBING MESSIAH. THIS ARTICLE INTENDS TO DESCRIBE BOTH SENSES OF THE TERM "SEED OF ABRAHAM", PROVING THAT THE MOST IMPORTANT ROLE OF ALL PROMISES TO ABRAHAM WAS TO SHOW MESSIAH WHO WILL BE THE INITIATOR AND THE PROTECTOR OF HIS CHURCH.
Keywords
Messianic prophecies,
the seed of Abraham,
Messiah in the Old Testament
Publication Date
Summer July 1, 2013
Citation Information
Caleb Otniel Traian Nechifor. "Messiah, The Seed of Abraham: Promise and Fullfilment"
Research and Science Today Supplement 2013
Vol. Supplement (2013)
Available at: http://works.bepress.com/calebnechifor/7/