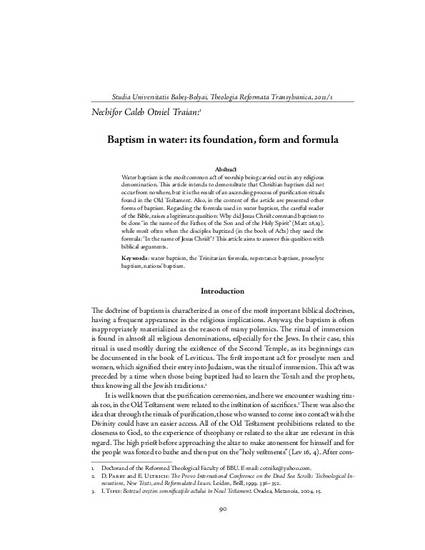 Article
Baptism in water: its foundation, form and formula
Studia UBB Theologia Reformata Transylvanica (2011)
Abstract
Water baptism is the most common act of worship being carried out in any religious denomination. This article intends to demonstrate that Christian baptism did not occur from now here, but it is the result of an ascending process of purification rituals found in the Old Testament. Also, in the content of the article are presented other forms of baptism. Regarding the formula used in water baptism, the careful reader of the Bible, raises a legitimate question : Why did Jesus Christ command baptism to be done "in the name of the Father, of the Son and of the Holy Spirit" (Matt 28,19), while most often when the disciples baptized (in the book of Acts) they used the formula: "In the name of Jesus Christ"? This article aims to answer this question with biblical arguments.
Keywords
water baptism,
the Trinitarian form ula,
repentance baptism,
proselyte baptism,
nations' baptism
Publication Date
Summer June, 2011
Citation Information
Caleb Otniel Traian Nechifor. "Baptism in water: its foundation, form and formula"
Studia UBB Theologia Reformata Transylvanica
Vol. 1 Iss. LV (2011)
Available at: http://works.bepress.com/calebnechifor/2/