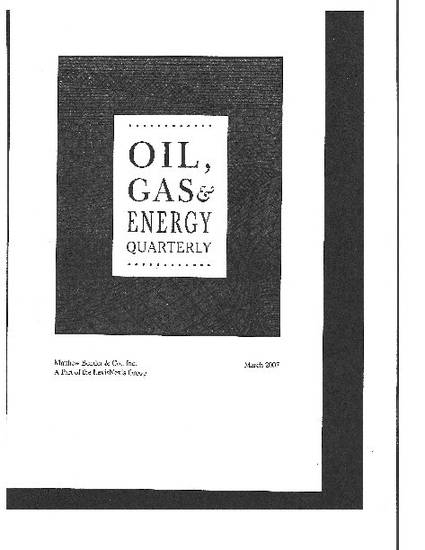 Article
Watts My Line? Energy Generation Siting Strategies for Urban Areas
Oil, Gas & Energy Quarterly (2007)
Abstract
The growth of urban areas has historically been both constrained and encouraged by energy and related infrastructure. Varying degrees of regulation have been sought to respond to compelling public safety needs: more recently, modern environmental law system was derived from public conflicts over siting of an energy plant. While the greater urban density offers reduced per-capita energy consumption rates, contemporary urban revitalization has brought a greater amount of people into closer contact with their energy sources. The unique geography, and increased securities needs, of urban areas demand both reliability and local proximity in energy source production. Urban siting issues will increase in complexity as the growth of market deregulation creates obstacles in comprehensive and environmental planning. A deregulated environment presents challenges in environmental decision-making, as this analysis is conducted on a project by project basis. Without an ability to implement a comprehensive plan, ad-hoc investigations into cumulative environmental impacts are problematic, as they rely upon future predictions which are speculative at best (given the number of unknowns in construction of approved or planned third party plants). In addition, urban siting presents a complex land use problem; both new and repowered energy sources are included to follow a historical legacy of waterfront siting, which is in direct conflict with the design goals of urban revitalization.
The most effective urban energy siting strategy can be achieved through a more effective use of the environmental review process. Such a strategy would rely upon several "best practices," including comprehensive planning (establishing a more specific dialogue between broad energy plans and siting needs); improved analysis in environmental review for large "end user" proposed developments (which increase consumption); and resolution of land use conflicts between waterfront redevelopment and traditional energy uses. Such an effective regulated process can be utilized as both a marketing tool to future energy developers and as a means to proactively address difficult public and environmental siting issues. Those urban areas which develop early and comprehensive decision-making strategies for generator siting promise to be the global commercial leaders of the next century. Economic development will come quickest to those cities who seek to invest in, rather than reduce, a responsive regulatory landscape.
Keywords
Urban,
land use,
energy generation,
environmental impact assessment,
NEPA
Publication Date
Spring March, 2007
Citation Information
Caleb W Christopher. "Watts My Line? Energy Generation Siting Strategies for Urban Areas"
Oil, Gas & Energy Quarterly
Vol. 55 Iss. 3 (2007)
Available at: http://works.bepress.com/caleb_christopher/3/