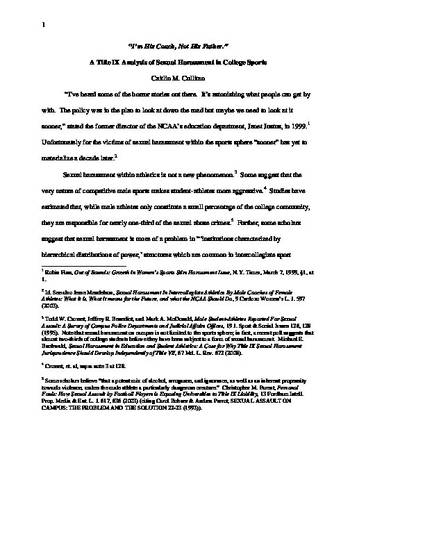 Unpublished Paper
"I'm His Coach, Not His Father:" A Title IX Analysis of Sexual Harassment in College Sports
ExpressO (2009)
Abstract
ABSTRACT "I'm His Coach, Not His Father." A Title IX Analysis of Sexual Harassment in College Sports Caitlin M. Cullitan
Studies have estimated that, while male athletes constitute only a small percentage of the college community, they are responsible for nearly one-third of the sexual abuse crimes. Recent case law demonstrates that college coaches sometimes actively recruit potential student athletes who have been charged with sexual misconduct. Once these student-athletes are admitted, these coaches may fail to inform the student-athletes of the institution's sexual harassment policies and fail to respond appropriately when new claims of sexual misconduct are made against these student-athletes. This article will examine sexual harassment claims brought under Title IX, specifically focusing on student-athletes as the sexual harassers. The conflation of Title IX jurisprudence, sexual harassment, and intercollegiate athletics has effectively constructed a unique paradigm for courts, educational institutions, and, arguably, the NCAA.
Title IX provides a claim for sexual harassment where (1) the institution is a federal funding recipient; (2) the sexual discrimination is "so severe, pervasive, and objectively offensive, and that so undermines and detracts from the victims' educational experience, that the victims are effectively denied equal access to an institution's resources and opportunities;" (3) "official who at a minimum has authority to address the alleged discrimination and to institute corrective measures on the recipient's behalf has actual knowledge of discrimination and fails adequately to respond"; and (4) the institution's response amounts to "deliberate indifference," which "causes students to undergo harassment or make them liable or vulnerable to it. The recent cases of Williams v. Board of Regents of Univ. Sys. of GA (477 F.3d 1282 (11th Cir. 2007))and J.K. v .Bd. of Rgnts. of Arizona State, (2008 U.S. Dist. LEXIS 83855 (Az. D. 2008)) represent a new trajectory for the "actual knowledge" inquiry under Title IX. Both embrace the theory that accepting a student into an institution that has a history of abuse may create an issue of material fact as to whether the institution had actual knowledge that these students could commit sexual harassment. Simpson v. University of Colorado Boulder (500 F.3d 1170 (10th Cir. 2007)) represents the dangers and risks of not reporting sexual crimes to the proper authorities, and demonstrates the failure of personnel to respond to sexual harassment claims may establish a policy of deliberate indifference.
This article proposes that the NCAA should include a provision in its recruiting bylaws requiring all institutions to implement background checks for admitted student-athletes. Background checks should give substantial evidence that an institution had "actual knowledge" of sexual harassment, and that an institution's reaction to and handling of a student who has a known criminal background record speaks to the reasonableness of a universities' response as a basis for imposing institutional liability. There should be "no such thing as a one free rape rule" in the context of Title IX.
Keywords
women,
higher education,
Title IX,
sports,
sexual harassment
Publication Date
January 27, 2009
Citation Information
Caitlin M. Cullitan. ""I'm His Coach, Not His Father:" A Title IX Analysis of Sexual Harassment in College Sports"
ExpressO
(2009)
Available at: http://works.bepress.com/caitlin_cullitan/1/