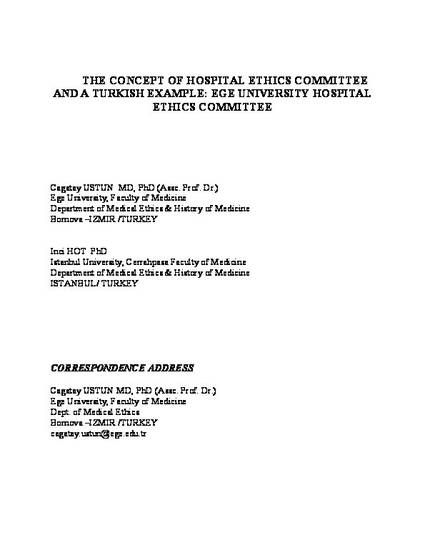 Unpublished Paper
THE CONCEPT OF HOSPITAL ETHICS COMMITTEE AND A TURKISH EXAMPLE: EGE UNIVERSITY HOSPITAL ETHICS COMMITTEE
ExpressO (2007)
Abstract
During the second half of the 20th century, the idea of establishing hospital ethics committees emerged as a result of technological developments in the medical field, of new approaches towards patients' rights, and of facts which were unacceptable from medical, judicial and moral perspectives. Among the goals of hospital ethics committees which begun to be established after the 1970's are consulting, educating hospital personnel, patients and patients' relatives, as well as building a health policy for the health institution. It is important to note, however, that the decisions of such committees are only in the nature of recommendations. In Turkey, there is a need for functionally serving ethics committees which the doctors can consult if they are seeking solutions for ethical dilemmas they face during medical practice. Ethics committees established at university hospitals with such a purpose in mind could not go beyond Pharmaceutical Research Ethics Committees. In our study we will briefly review the history of Hospital Ethics Committees in Turkey and will present the work done in this area. While emphasizing the place of Ege University Hospital's Hospital Ethics Committee established in Turkey in 1999 for this purpose and the experience of this committee, we will present two current case studies with ethical dilemmas and the ethical decisions taken in these two cases.
Keywords
Hospital Ethics Committee,
Turkey,
Ege University Hospital.
Publication Date
July, 2007
Citation Information
CAGATAY USTUN and INCI HOT. "THE CONCEPT OF HOSPITAL ETHICS COMMITTEE AND A TURKISH EXAMPLE: EGE UNIVERSITY HOSPITAL ETHICS COMMITTEE"
ExpressO
(2007)
Available at: http://works.bepress.com/cagatay_ustun/1/