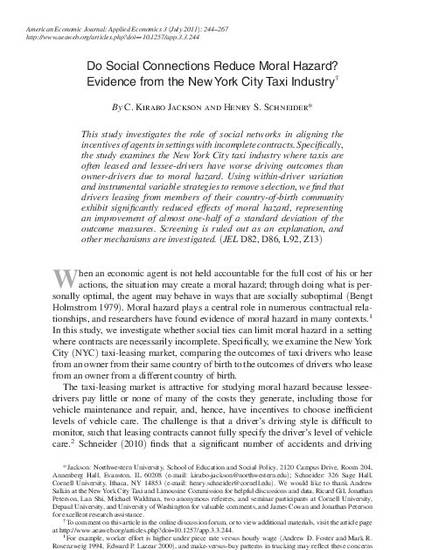 Article
Do Social Connections Reduce Moral Hazard? Evidence from the New York City Taxi Industry
American Economic Journal: Applied Economics (2011)
Abstract
We investigate the role of social networks in aligning the incentives of agents in settings with incomplete contracts. We study the New York City taxi industry where taxis are often leased and lessee-drivers have worse driving outcomes than owner-drivers due to a moral hazard associated with incomplete contracts. We find that: (1) drivers leasing from members of their country-of-birth community exhibit significantly reduced effects of moral hazard; (2) network effects appear to operate via social sanctions; and (3) network benefits can help to explain the industry organization in terms of which drivers and owners form business relationships.
Citation Information
Jackson, C. Kirabo, and Henry S. Schneider. 2011. "Do Social Connections Reduce Moral Hazard? Evidence from the New York City Taxi Industry."
American Economic Journal: Applied Economics
, 3(3): 244–67.