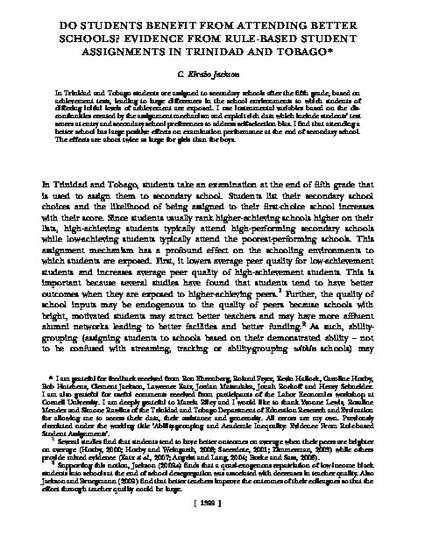 Article
Do Students Benefit From Attending Better Schools?: Evidence From Rule-based Student Assignments in Trinidad and Tobago
The Economic Journal (2010)
Abstract
In Trinidad and Tobago students are assigned to secondary schools after fifth grade based on achievement tests, leading to large differences in the school environments to which students of differing initial levels of achievement are exposed. This paper uses instrumental variables based on the discontinuities created by the assignment mechanism, and exploits rich data which include the students' test scores at entry and secondary school preferences to address self-selection bias. I find that attending a better school has large positive effects on examination performance at the end of secondary school. The effects are about twice as large for girls than for boys.
Citation Information
C. Kirabo Jackson. "Do Students Benefit From Attending Better Schools?: Evidence From Rule-based Student Assignments in Trinidad and Tobago"
The Economic Journal
, 120(549): 1399-1429.