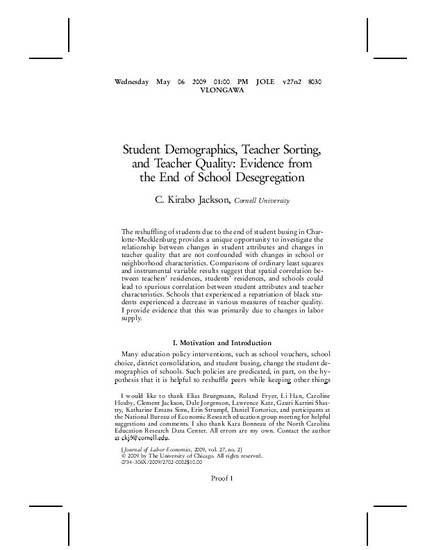 Article
Student Demographics, Teacher Sorting, and Teacher Quality: Evidence From the End of School Desegregation
The Journal of Labor Economics (2009)
Abstract
The reshuffling of students due to the end of student busing in Charlotte-Mecklenburg provides a unique opportunity to investigate the relationship between changes in student attributes and changes in teacher quality that are not confounded with changes in school or neighborhood characteristics. Comparisons of OLS and IV results suggest that the spatial correlation between teachers' residences, students' residences and schools could lead to spurious correlation between student attributes and teacher characteristics. The re-shuffling of students led to teacher resorting so that schools that experienced a repatriation of black students experienced a decrease in various measures of teacher quality (including estimated value-added). I provide evidence that this was primarily due to a labor supply response.
Keywords
desegregation,
student busing,
student attributes,
teacher quality
Publication Date
Spring April, 2009
Citation Information
C. Kirabo Jackson. "Student Demographics, Teacher Sorting, and Teacher Quality: Evidence From the End of School Desegregation"
The Journal of Labor Economics
27.2 (2009): 213-256.