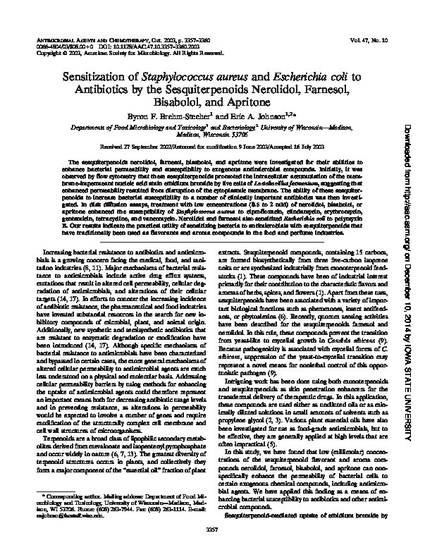 Article
Sensitization of Staphylococcus aureus and Escherichia coli to Antibiotics by the Sesquiterpenoids Nerolidol, Farnesol, Bisabolol, and Apritone
Antimicrobial Agents and Chemotherapy (2003)
Abstract
The sesquiterpenoids nerolidol, farnesol, bisabolol, and apritone were investigated for their abilities to enhance bacterial permeability and susceptibility to exogenous antimicrobial compounds. Initially, it was observed by flow cytometry that these sesquiterpenoids promoted the intracellular accumulation of the membrane-impermeant nucleic acid stain ethidium bromide by live cells of Lactobacillus fermentum, suggesting that enhanced permeability resulted from disruption of the cytoplasmic membrane. The ability of these sesquiterpenoids to increase bacterial susceptibility to a number of clinically important antibiotics was then investigated. In disk diffusion assays, treatment with low concentrations (0.5 to 2 mM) of nerolidol, bisabolol, or apritone enhanced the susceptibility of Staphylococcus aureus to ciprofloxacin, clindamycin, erythromycin, gentamicin, tetracycline, and vancomycin. Nerolidol and farnesol also sensitized Escherichia coli to polymyxin B. Our results indicate the practical utility of sensitizing bacteria to antimicrobials with sesquiterpenoids that have traditionally been used as flavorants and aroma compounds in the food and perfume industries.
Publication Date
October, 2003
Citation Information
Byron F. Brehm-Stecher and Eric A. Johnson. "Sensitization of Staphylococcus aureus and Escherichia coli to Antibiotics by the Sesquiterpenoids Nerolidol, Farnesol, Bisabolol, and Apritone"
Antimicrobial Agents and Chemotherapy
Vol. 47 Iss. 10 (2003)
Available at: http://works.bepress.com/byron_brehmstecher/8/