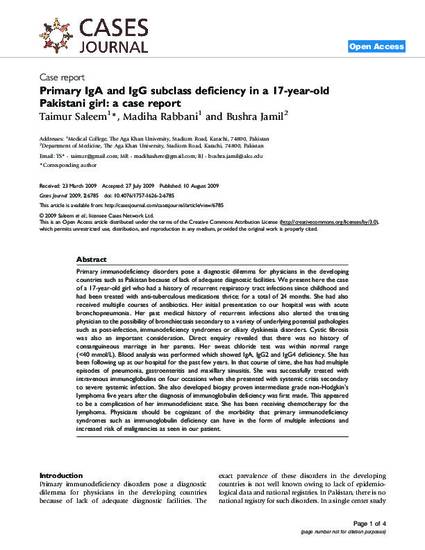 Article
Primary IgA and IgG subclass deficiency in a 17-year-old Pakistani girl: a case report.
Cases Journal
Publication Date
8-10-2009
Abstract
Primary immunodeficiency disorders pose a diagnostic dilemma for physicians in the developing countries such as Pakistan because of lack of adequate diagnostic facilities. We present here the case of a 17-year-old girl who had a history of recurrent respiratory tract infections since childhood and had been treated with anti-tuberculous medications thrice, for a total of 24 months. She had also received multiple courses of antibiotics. Her initial presentation to our hospital was with acute bronchopneumonia. Her past medical history of recurrent infections also alerted the treating physician to the possibility of bronchiectasis secondary to a variety of underlying potential pathologies such as post-infection, immunodeficiency syndromes or ciliary dyskinesia disorders. Cystic fibrosis was also an important consideration. Direct enquiry revealed that there was no history of consanguineous marriage in her parents. Her sweat chloride test was within normal range (/L). Blood analysis was performed which showed IgA, IgG2 and IgG4 deficiency. She has been following up at our hospital for the past few years. In that course of time, she has had multiple episodes of pneumonia, gastroenteritis and maxillary sinusitis. She was successfully treated with intravenous immunoglobulins on four occasions when she presented with systemic crisis secondary to severe systemic infection. She also developed biopsy proven intermediate grade non-Hodgkin's lymphoma five years after the diagnosis of immunoglobulin deficiency was first made. This appeared to be a complication of her immunodeficient state. She has been receiving chemotherapy for the lymphoma. Physicians should be cognizant of the morbidity that primary immunodeficiency syndromes such as immunoglobulin deficiency can have in the form of multiple infections and increased risk of malignancies as seen in our Patient.
Citation Information
Taimur Saleem, Madiha Rabbani and Bushra Jamil. "Primary IgA and IgG subclass deficiency in a 17-year-old Pakistani girl: a case report."
Cases Journal
Vol. 2 (2009) p. 6785
Available at: http://works.bepress.com/bushra_jamil/54/