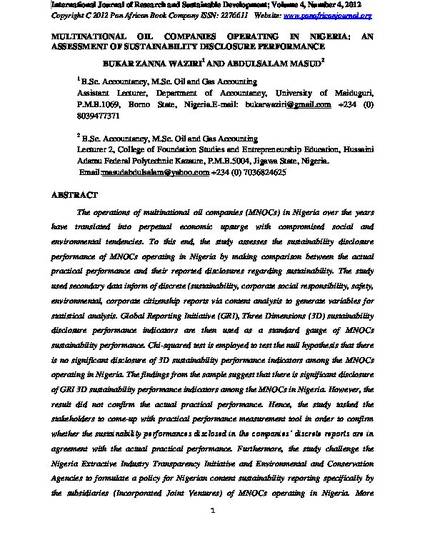 Article
Multinational Oil Companies Operating in Nigeria: An Assessment of Sustainability Disclosure Performance
International Journal of Research and Sustainable Development (2012)
Abstract
The operations of multinational oil companies (MNOCs) in Nigeria over the years have translated into perpetual economic upsurge with compromised social and environmental tendencies. To this end, the study assesses the sustainability disclosure performance of MNOCs operating in Nigeria by making comparison between the actual practical performance and their reported disclosures regarding sustainability. The study used secondary data inform of discrete (sustainability, corporate social responsibility, safety, environmental, corporate citizenship reports via content analysis to generate variables for statistical analysis. Global Reporting Initiative (GRI), Three Dimensions (3D) sustainability disclosure performance indicators are then used as a standard gauge of MNOCs sustainability performance. Chi-squared test is employed to test the null hypothesis that there is no significant disclosure of 3D sustainability performance indicators among the MNOCs operating in Nigeria. The findings from the sample suggest that there is significant disclosure of GRI 3D sustainability performance indicators among the MNOCs in Nigeria. However, the result did not confirm the actual practical performance. Hence, the study tasked the stakeholders to come-up with practical performance measurement tool in order to confirm whether the sustainability performances disclosed in the companies' discrete reports are in agreement with the actual practical performance. Furthermore, the study challenge the Nigeria Extractive Industry Transparency Initiative and Environmental and Conservation Agencies to formulate a policy for Nigerian content sustainability reporting specifically by the subsidiaries (Incorporated Joint Ventures) of MNOCs operating in Nigeria. More explicitly, the study recommends the incorporation of all the MNOCs as legal entities and be listed in the Nigerian Stock Exchange in order to provide independent sustainability report for their corporate performance in Nigeria.
Keywords
Multinational oil companies,
sustainability,
disclosure performance,
Nigeria
Publication Date
Summer October 4, 2012
Citation Information
Bukar Zanna Waziri. "Multinational Oil Companies Operating in Nigeria: An Assessment of Sustainability Disclosure Performance"
International Journal of Research and Sustainable Development
Vol. 4 Iss. 4 (2012)
Available at: http://works.bepress.com/bukar_waziri/3/