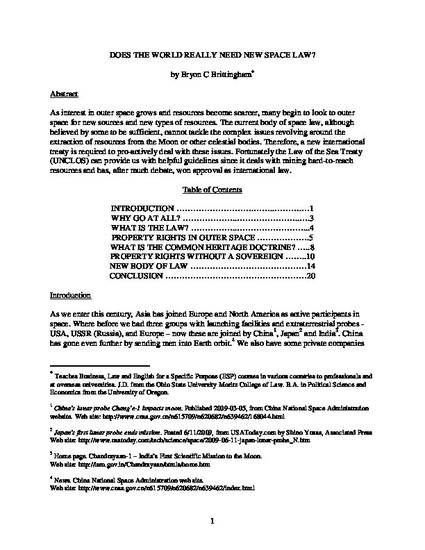 Unpublished Paper
DOES THE WORLD REALLY NEED NEW SPACE LAW?
ExpressO (2010)
Abstract
As interest in outer space grows and resources become scarcer, many begin to look to outer space for new sources and new types of resources. The current body of space law, although believed by some to be sufficient, cannot tackle the complex issues revolving around the extraction of resources from the Moon or other celestial bodies. Therefore, a new international treaty is required to pro-actively deal with these issues. Fortunately the Law of the Sea Treaty (UNCLOS) can provide us with helpful guidelines since it deals with mining hard-to-reach resources and has, after much debate, won approval as international law.
Keywords
space law,
UNCLOS,
Outer Space Treaty
Publication Date
January 15, 2010
Citation Information
Bryon C Brittingham. "DOES THE WORLD REALLY NEED NEW SPACE LAW?"
ExpressO
(2010)
Available at: http://works.bepress.com/bryon_brittingham/1/