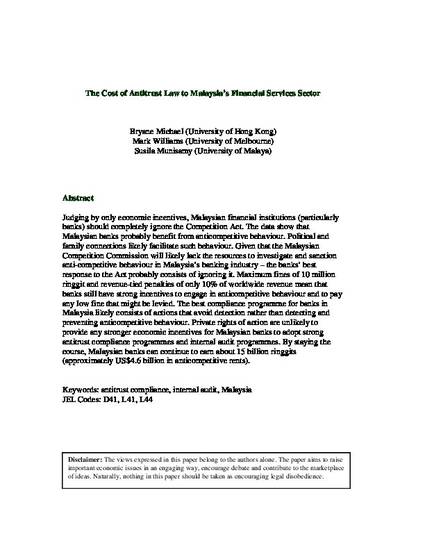 Article
The Cost of Antitrust Law to Malaysia's Financial Services Sector
Working Paper (2014)
Abstract
Judging by only economic incentives, Malaysian financial institutions (particularly banks) should completely ignore the Competition Act. The data show that Malaysian banks probably benefit from anticompetitive behaviour. Political and family connections likely facilitate such behaviour. Given that the Malaysian Competition Commission will likely lack the resources to investigate and sanction anti-competitive behaviour in Malaysia's banking industry – the banks' best response to the Act probably consists of ignoring it. Maximum fines of 10 million ringgit and revenue-tied penalties of only 10% of worldwide revenue mean that banks still have strong incentives to engage in anticompetitive behaviour and to pay any low fine that might be levied. The best compliance programme for banks in Malaysia likely consists of actions that avoid detection rather than detecting and preventing anticompetitive behaviour. Private rights of action are unlikely to provide any stronger economic incentives for Malaysian banks to adopt strong antitrust compliance programmes and internal audit programmes. By staying the course, Malaysian banks can continue to earn about 15 billion ringgits (approximately US$4.6 billion in anticompetitive rents).
Keywords
malaysia,
competition law,
competition act,
economic analysis,
financial sector
Citation Information
Bryane Michael, Mark Williams and Susila Munisamy. "The Cost of Antitrust Law to Malaysia's Financial Services Sector"
Working Paper
(2014)
Available at: http://works.bepress.com/bryane_michael/94/