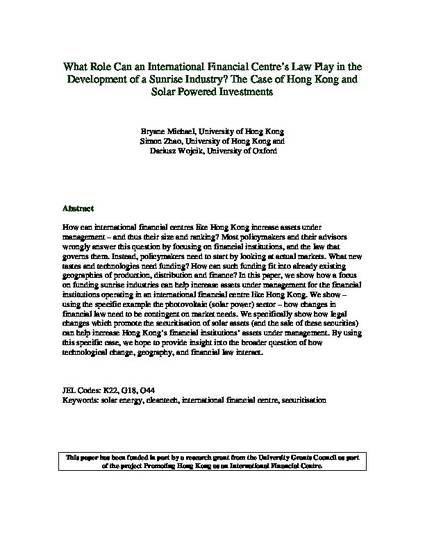 Article
What Role Can an International Financial Centre's Law Play in the Development of a Sunrise Industry? The Case of Hong Kong and Solar Powered Investments
HKU Law Review (2014)
Abstract
How can international financial centres like Hong Kong increase assets under management – and thus their size and ranking? Most policymakers and their advisors wrongly answer this question by focusing on financial institutions, and the law that governs them. Instead, policymakers need to start by looking at actual markets. What new tastes and technologies need funding? How can such funding fit into already existing geographies of production, distribution and finance? In this paper, we show how a focus on funding sunrise industries can help increase assets under management for the financial institutions operating in an international financial centre like Hong Kong. We show – using the specific example the photovoltaic (solar power) sector – how changes in financial law need to be contingent on market needs. We specifically show how legal changes which promote the securitisation of solar assets (and the sale of these securities) can help increase Hong Kong's financial institutions' assets under management. By using this specific case, we hope to provide insight into the broader question of how technological change, geography, and financial law interact.
Keywords
photovoltaic,
investment,
solar energy,
securitization,
Hong Kong,
Financial Services Development Council
Citation Information
Bryane Michael. "What Role Can an International Financial Centre's Law Play in the Development of a Sunrise Industry? The Case of Hong Kong and Solar Powered Investments"
HKU Law Review
(2014)
Available at: http://works.bepress.com/bryane_michael/93/