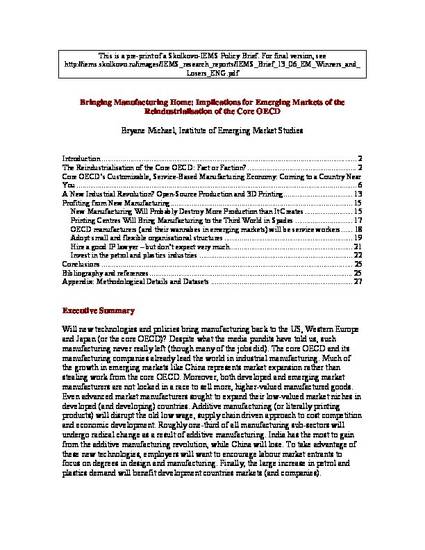 Article
Bringing Manufacturing Home: Implications for Emerging Markets of the Reindustrialisation of the Core OECD
Skolkovo IEMS Policy Brief (2013)
Abstract
Will new technologies and policies bring manufacturing back to the US, Western Europe and Japan (or the core OECD)? Despite what the media pundits have told us, such manufacturing never really left (though many of the jobs did). The core OECD and its manufacturing companies already lead the world in industrial manufacturing. Much of the growth in emerging markets like China represents market expansion rather than stealing work from the core OECD. Moreover, both developed and emerging market manufacturers are not locked in a race to sell more, higher-valued manufactured goods. Even advanced market manufacturers sought to expand their low-valued market niches in developed (and developing) countries. Additive manufacturing (or literally printing products) will disrupt the old low wage, supply chain driven approach to cost competition and economic development. Roughly one-third of all manufacturing sub-sectors will undergo radical change as a result of additive manufacturing. India has the most to gain from the additive manufacturing revolution, while China will lose. To take advantage of these new technologies, employers will want to encourage labour market entrants to focus on degrees in design and manufacturing. Finally, the large increase in petrol and plastics demand will benefit development countries markets (and companies).
Keywords
additive manufacturing,
3D printing,
plastics
Citation Information
Bryane Michael. "Bringing Manufacturing Home: Implications for Emerging Markets of the Reindustrialisation of the Core OECD"
Skolkovo IEMS Policy Brief
(2013)
Available at: http://works.bepress.com/bryane_michael/82/